Road through the park is closed

Park highway (HWY 89) is currently being cleared of snow, debris, and rocks. Anticipated opening for Memorial Weekend. More »
Park highway under construction near Sulphur Works

Road crews are working to repair the road near Sulphur Works hydrothermal area. Road will be closed at the Kohm Yah-mah-nee Visitor Center during the week, and open to Sulphur Works on the weekends.
Hiking Boiling Springs Lake Trail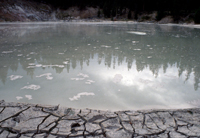 Start: parking area west of Warner Valley Campground
Round Trip Distance: 3 miles
Round Trip Time: 2 hours
Terrain: easy 200 foot climb
Elevation: 5800 feet
A number of steam vents are located under Boiling Springs Lake, keeping the temperature of the lake around 125 degrees. The mud pots on the southeast shore are among the best in the park.
The trail crosses a meadow and then goes through forest to the lake and around it. Trees include incense-cedar, ponderosa pine, Douglas-fir, white fir, sugar pine, and others. A variety of wildflowers are found and it is a good area to observe birds.


Did You Know?

The reddish color sometimes observed on top of snow at Lassen Volcanic NP snow is a living organism called snow algae.  When snow begins to thaw, these microscopic organisms spring to life.  They function as a primary food source and are being studied for their cancer-fighting properties.