Park Highway Closed for Winter Season

Lassen National Park Highway is closed to through traffic for the winter season. The highway will remain open to the the Kohm Yah-mah-nee Visitor Center (1 mile from the SW entrance) and Manzanita Lake (1 mile inside the NW entrance). More »
Field Seminars
Explore and Discover Lassen Volcanic with Ed-Venture Workshops
Experience Lassen Volcanic National Park at a greater level, through hands-on Ed-Venture Workshops! Education and adventure can easily be found at Lassen Volcanic National Park through Lassen Association's Field Seminar Program. Lassen Association is an educational non-profit organization contracted with the National Park Service since 1939 to provide quality and professional education and interpretation about Lassen Volcanic National Park. Course registration is highly recommended, however walk-ons are welcome if course is not full (cash or personal check only for walk-ons). All workshops are subject to last minute cancellation due to extreme conditions. Course dates and times may also change.
Field seminar proceeds directly benefit the park.
For more information, please contact the Lassen Association at (530) 529-3450. Pre-registration is available on-line at
www.lassenassociation.org
.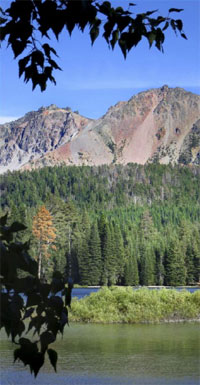 ©Terry Nathan
Nature Photography in Lassen Volcanic National Park
Photography is among the most accessible art forms but among the most difficult to master. In this two-day photography workshop, we will use Lassen Volcanic National Park's stunning landscape, rich history, and diversity of ecosystems to improve our skills making photographs. By combining in-class and hands-on photography experiences in the park, we will learn about compositional principles that will enable us to make more compelling photographs spanning a wide range of natural subjects. These subjects will include the park's wildflowers, geologic features, and grand mountain views. The workshop will consist of a two-hour in class presentation on the principles of lighting and composition, a six-hour hands-on field excursion, and a two-hour post photo shoot critique session.

Experience Level: Beginner to Experienced
Ages: 18 and up
Cost: $150 per person; $135 for Lassen Association Members
Instructor: Terry Nathan
Dates: July 19-20 or September 6-7

Day 1 - 6 p.m. to 8 p.m.
Lecture on lighting and composition in the Loomis Museum Auditorium
Day 2 - 7 a.m. to 12 p.m.
Field Excursion; meet in front of the Loomis Museum. Topics include:

The camera; a tool for the heart and mind: camera basics: aperture, shutter speed, depth-of-field…
Learning to see like an artist: documentation and interpretation
Designing a photograph: vantage point, intrinsic frame, time…
Basic principles of composition: visual weight and energy, proportion, perspective…
Seeing the light: quality and direction of light
Color as a design element: color in the landscape (complimentary versus harmonious colors)
From concept to portfolio: telling a story
Photo critiques in the Loomis Museum Auditorium. Review and critique the images made during the field excursion.
Plus an option session for sunset photography!
What to Pack
Camera! Digital, film, and point-and-shoot cameras are all welcome. Bring plenty of water, sack lunch, snacks, backpack, sunscreen, insect repellant, sturdy/comfortable shoes, layers of light, loose and protective clothing, hat, rain gear for your person and camera gear, and a small folding stool/chair (last item optional).

Important Notes
Keep in mind that you will be at 6,000+ feet. Altitude and exposure to the elements are important considerations. Weather conditions in the mountains can change quickly and dramatically. The workshop will continue as planned in reasonable rain conditions. Lighting, thunder, heavy rain or snow may cancel the course. The course itinerary is tentative and may change due to weather conditions, participants' experience levels, and accessibility to resources, etc…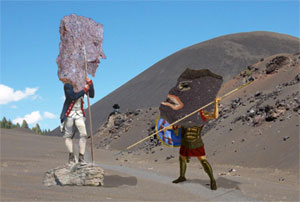 Jeff Dunn
The War Between the Rocks: Lassen's Geologic Story
Lassen National Park is beautiful to see, during the split second of geologic time people walk on its seemingly quiet surface. But underground, a "battle zone" has existed for millions of years between two kinds of rocks-those that provide continents for us to live on, and those that undermine our homeland from beneath the seas. Employing analogies of warfare, this workshop will bring alive the interactions of two "armies" of transformational minerals that, along with a special "spy" working for both sides, have built landmarks of national significance. The workshop begins with a two-hour, in-class examination of the nature of the "armies," the "spy," and how they interact. The next day, we go out in person to the various parts of the "battlefield" we can examine in detail to check out mineral bodies and their resulting landforms.
Experience Level: Beginner to Experienced
Ages: 18 and up
Cost: $40 per person; $35 for Lassen Association Members
Instructor: Jeff Dunn, Ph. D.

Dates: July 26 or August 16

Field seminars will begin with a lecture on the "War Between Rocks" in the Kohm Yah-mah-nee Visitor Center from 4 p.m. to 6 p.m. followed by Saturday explorations of Lassen's geologic highlights. The lecture is open the public (course fees apply to the field excursion).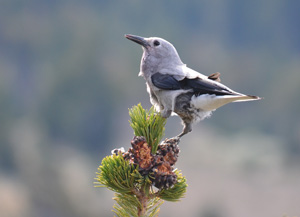 Birding
This event has been cancelled due to limited bird populations in the park at this time.
Join California State University, Chico Professor Emeritus Dr. Roger Lederer for a two-day field seminar on the amazing birds of Lassen. The workshop includes a one-hour presentation (open to all visitors) introducing the birds of Lassen and the interesting and and amazing adaptation of birds followed by a guided walk. Participants must be in good physical condition and able to walk in rugged terrain. Group size is limited to 15 people. Dates for second fall seminar will be announced soon.
Dr. Roger Lederer, has an extensive background in Biological Sciences. He is a Professor Emeritus at California State University, Chico, and has traveled to over 80 countries observing the different species of birds around the world. Dr. Lederer writes a blog that is published in the Chico Enterprise Record several times a month about his birding adventures.
Experience Level: Beginnier to Advanced
Ages: All
Cost: $25
Instructor: Dr. Roger Lederer
Dates: June 21-22; fall class dates soon to be announced

Did You Know?

All four types of volcanoes found in the entire world are represented in Lassen Volcanic National Park. Volcanoes found in the park include shield (Prospect Peak), plug dome (Lassen Peak), Cinder Cone (Cinder Cone), and Composite (Brokeoff Volcano) volcanoes. More...