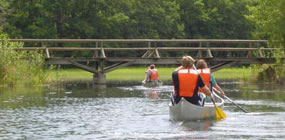 NPS/L.Snook
Many visitors don't realize there is more to Lake Roosevelt National Recreation Area than just, boating, fishing, hunting and camping.
Historic Lake Roosevelt
Humans have been living in and around Lake Roosevelt for over 9,000 years. Visit Fort Spokane Visitor Center and Museum to learn about local military history and the part that Fort Spokane played in local Native American history. Travel even farther back in time to learn about Kettle Falls, Fort Colvile, and St. Paul's Mission when you visit Mission Point.
Picnic, Swim, or Walk by the Water
There are 10 designated swimbeaches maintained by the National Park Service that include picnic areas, playgrounds and much more.

Rent a Boat
Several concessioners rent house boats and other water craft on the lake.

Visit Grand Coulee Dam
The Grand Coulee Dam is located 90 miles west of Spokane, Washington on State Highway 155. The dam is almost a mile long and 550 feet high. Grand Coulee is North America's largest hydroelectric plant with a generating capacity of 6,809,000 kilowatts.

Want to learn more?

Our bookstore contains many titles about the natural and cultural history of this area. Read More