China Bend Closure

The China Bend Climbing Area is closed until July 15 to protect nesting raptors. More »
Fishing
Fishing License Requirements
Washington State fishing regulations and licensing requirements apply when fishing on Lake Roosevelt National Recreation Area.
When in waters adjoining the Colville Reservation a Washington State or Colville fishing license may be used. If you are fishing from shore on the Colville Reservation you must have a Colville Tribal fishing license. Check out the Confederated Tribes of the Colville Reservation website or call (509) 634-2110 for more information.
The Spokane Tribe also requires a Spokane Tribal fishing license when fishing from shore on the Spokane Reservation. Call (509) 625-3511 for information.
Please do not put fish remains back into the lake. They take a long time to decompose in fresh water, resulting in littered and polluted water.
Bank Fishing
You can fish from shore anywhere outside of harbors and designated swim areas. Fishing is prohibited in these areas because hooks and fishing line can result in injury or drowning.
Before You Go:
Check out the updated fish consumption advisory from Washington Department of Public Health.
What to Fish For:
More than 30 species of fish inhabit this waters. Some common ones that you may encounter are:
Walleye
Young walleye have six or seven dark saddle marks on their backs. Adults may be dark silver to dark olive brown with brassy spots. The underside may be yellow or white. There is a black blotch on the dorsal fin and a white tip on the lower lobe of the tail.
In past years more than 90 perscent of all fish causth have been walleye, one of Lake Roosevelt's prized game fish. If you catch one, you can be sure others are around, because walleye travel in schools. Average weight 1-4 lbs.
Ranbow Trout
Rivaling the walleye in popularity, this sport fish is an acrobatic fighter when hooked. Average weight 1-3 lbs.
White Sturgeon
North America's biggest freshwater fish. Landlocked behind Grand Coulee Dam, sturgeon can grow up to 1,800 lbs. Average weight 100-300 lbs.
Yellow Perch
A tasty, mild-flavored fish transplanted from the East. When hungry, this fish generally will bite anything offered. Average weight 0.3-0.5 lbs.
Lake Whitefish
An abundant species in Lake Roosevelt, not generally pursued by anglers. It is caught most often by those angling for trout or kokanee. Average weight 2-3 lbs.
Kokanee
Landlocked version of the anadromous sockeye slmon. Tributary streams provide important spawning grounds for this fish. Avearge weight 1.3 lbs.
Burbot
One of the lake's native fish, also known as a fresh water lingcod. This tasty fish has become popular moung anglers. Average weight 3-7 lbs.
Other fish found in these waters include cutthroat traout, bass, sunfish, carp, perch, pike, and bullhead.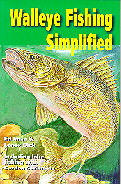 Fishing for Walleye on Lake Roosevelt
One of the most popular sport fish in the northern and central United states has developed a similar reputation in Washington, and specifically at Lake Roosevelt national Recreation Area, in the last couple of decades. Known for its exquisite flavor and large size, this newcomer called "walleye" is providing additional excitement and opportunity in a state already rich with fishing resources.

The walleye is not a native Washington fish, and just how walleyes originally entered the state is unknown. The first verification of a walleye in Washington was in 1962, from Banks Lake in eastern Washington. Soon afterwards, populations began to show up in Franklin Roosevelt Lake (connected to Banks Lake through a huge pipe and pump). Since then they have spread from these original sites to the remainder of the mainstem Columbia river, from near the mouth to the Canadian border.

Walleyes continued to advance to other waters in the central Columbia Basin. Using irrigation canals as frontier highways, they have established populations in Moses Lake, Potholes Reservoir, Billy Clapp Lake, Long Lake, Crescent Lake and Soda Lake. The Department of Fish and Wildlife has also stocked walleyes in some of these lakes to supplement the populations, as well as to create a new fishery in Sprague Lake.
The walleye's appeal is certainly not its lethargic fight, although fish get so big here they can generate intense interest and excitement. Rather, it is their performance at the dinner table that keeps anglers returning, trip after trip. Many people consider walleyes to be the best-flavored white-fleshed fish in freshwater. Aficionados of yellow perch (a close relative of the walleye) might disagree, but not vociferously. Both are superb in a number of recipes with the walleye's larger size contributing bigger portions.

A good day's fishing for walleyes will yield several two-to- three-pound fish, with an occasional fish up to ten pounds. The current state record, caught in the Columbia River below McNary Dam in April 1990, weighed 18 pounds and 12 ounces.

One characteristic that helps identify the walleye is its large, opaque-white eyes.This feature is an adaptation to the fish's habits and preferences, and a clue forte perceptive angler. The large eyes have extremely fine light receptivity to see prey in dimly lit waters. Walleyes evolved in turbid waters and in deep lakes and this ability to "see in the dark" has provided the necessary edge to survive.

Astute anglers know that this also means walleyes stay away from bright, sonneteers. When they have to come up to the surface or to shallow shore areas tiffed or spawn, walleyes look for muddy waters or they wait and move in from dusk to dawn. This is the best time to fish for them.

When walleyes reach maturity, they become highly migratory. As soon as the lakes and rivers begin to warm and thaw in early spring, walleyes make spawning journeys from their winter holding areas. Some of these migrations will cover dozens of miles to headwater tributaries. Other spawning may occur along shallow rocky lake shores, but in either instance, spawning areas are less than five feet deep. The only proven natural reproduction of walleyes in Washington is in Roosevelt Lake and intermittently in Lake Umatilla (John Day Pool).

During spring spawning runs, walleyes stack up in headwater streams and below dams and are easy prey for anglers-in-the-know. Most of the famous walleye holes throughout the country are these types of waters.

After spawning, walleyes will return to the main lake or river, staying in the shallows throughout the spring and early summer until the waters warm, then moving to deep, cooler water during the day, returning to feed at dusk. During winter, it is generally thought that walleyes hold up in deep waters until the spawning urge strikes again, but little is actually known about the winter habits of this fish.

To learn more about walleye and how to catch them visit our bookstore.


Did You Know?

The park offers a variety of engaging activites for school groups. These include A River Mile, where students adopt and study a mile of the river. Duty, Discipline, and Devotion allow classes to experience what it was like to be a student or soldier at Fort Spokane. Contact us for information.