Planning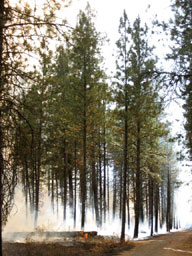 L.Snook
This page is your portal to significant recent and past park planning documents. If you have an questions or comments, please contact us.

Vacation Cabins and Shoreline Management
For more information on the 2011 Vacation Cabin Environmental Assessment or the 2010 Shoreline Management Plan, please click on the above links.
In accordance with the National Environmental Policy Act, the National Park Service examined the impacts and suitability of private vacation cabins along the shoreline of Lake Roosevelt at Rickey Point and Sherman Creek and has issued a 2011 Vacation Cabin Environmental Assessment (corrections to pg. 42) and a Finding of No Significant Impact.
For more information please contact:
Commercial Services Specialist, 509-633-9441

Fire Management
Fire Management Plan
2009 Errata FMP

Please visit our Fire Management page for more specific information on Lake Roosevelt fire management and fuel reduction projects.
Livestock Management
Lake Roosevelt NRA Livestock Management Plan & Environmental Assessment
The purpose of the Lake Roosevelt NRA LMPEA is to manage grazing activities that were specifically authorized by federal law in 2001 in a manner that is consistent with the National Park Service mission and policies, and the park purposes. This plan is only relevant to land within Lake Roosevelt National Recreation Area.
Concession Management
Concession Management Plan 1997
Concession Management Amendments 2001
The purpose of this Concession Management Plan is to define an appropriate level of concession facilities necessary to provide for visitor use and enjoyment of Lake Roosevelt and the adjacent federally owned lands.
Visitor Use Development Concept Plans
2012 Visitor Use Development Concept Plan
Management at Lake Roosevelt is proposing the solutions listed in this plan to help deal with low reservoir levels during the high recreation summer season.
2013 Development Concept Plan Available for Public Review and Comment
Lake Roosevelt National Recreation Area has released for public review and comment the 2013 Boat Launch Development Concept Plan (DCP). This plan is intended to evaluate and inform the National Park Service (NPS) on the effects of expanding and reconfiguring two existing boat launches (Kettle Falls and Fort Spokane) and the associated facilities within Lake Roosevelt National Recreation Area (LARO).
As a result of the projected summer reservoir levels, five boat launches in the northern area of the park and one area in the south will not be usable during various periods of time during the summer. Visitation to the five northern launches account for approximately 15,000 of the 511,000 visitors to the park during the months of August and September, while the one southern launch accounts for approximately 3,294 visitors during this same time period.
Given the proximity of Fort Spokane and Kettle Falls to both the areas of visitor origin and to those developed areas that may experience dewatered boat launches during the summer period, the Kettle Falls and Fort Spokane boat launches have been identified as the highest priority for redesign and development within the park.
The open comment period for this document is from August 30, 2013 until September 30, 2013. Individuals wishing to review and comment on this DCP may access the document at:
http://parkplanning.nps.gov/documentsList.cfm?parkID=318&projectID=43697
Printed copies are available for viewing at the Kettle Falls Visitor Center, Fort Spokane, and Coulee Dam offices. Digital copies of the DCP are available upon request by calling (509)754-7800.
Written comments may also be sent to Lake Roosevelt National Recreation Area at:
Attn: Superintendent
Lake Roosevelt NRA
1008 Crest Drive
Coulee Dam, WA 99116