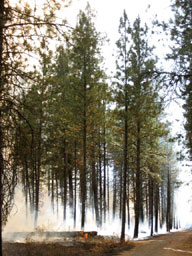 L.Snook
This page is your portal to significant recent and past park planning documents. If you have an questions or comments, please contact us.

2015 Draft Foundation Document Available for Review
2015 Lake Roosevelt NRA Draft Foundation Document

A foundation document reaffirms a National Park unit's core mission and significance, most important resources and values, and the interpretive themes that tell the park's important stories. A primary benefit of developing a foundation document is the opportunity to integrate and coordinate all kinds and levels of planning from a single, shared understanding of what is most important about the park. The process of developing a foundation document begins with gathering and integrating information about the park. Next, this information is refined and focused to identify the most important attributes of the park. The process of preparing a foundation document aids park managers, staff, and the public in identifying and clearly stating in one document the essential information that is necessary for park management to consider when determining future planning efforts, outlining key planning issues, and protecting resources and values that are integral to park purpose and identity.
Because a foundation document is not a decision making tool, it is not subject to National Environmental Policy Act (NEPA) procedures. However given general interest we are making the draft foundation document available for review. The Draft Lake Roosevelt National Recreation Area Foundation Document has been posted to the park website at: http://www.nps.gov/laro/getinvolved/planning.htm. You may send or drop off comments at park headquarters: Lake Roosevelt National Recreation Area, 1008 Crest Drive, Coulee Dam, WA 99116 or send an email to LARO_Superintendent@nps.gov. Your comments will be most helpful if received by April 29, 2015.
Vacation Cabins and Shoreline Management
For more information on the 2011 Vacation Cabin Environmental Assessment or the 2010 Shoreline Management Plan, please click on the above links.
In accordance with the National Environmental Policy Act, the National Park Service examined the impacts and suitability of private vacation cabins along the shoreline of Lake Roosevelt at Rickey Point and Sherman Creek and has issued a 2011 Vacation Cabin Environmental Assessment (corrections to pg. 42) and a Finding of No Significant Impact.
For more information please contact:
Commercial Services Specialist, 509-633-9441

Fire Management
Fire Management Plan
2009 Errata FMP

Please visit our Fire Management page for more specific information on Lake Roosevelt fire management and fuel reduction projects.
Livestock Management
Lake Roosevelt NRA Livestock Management Plan & Environmental Assessment
The purpose of the Lake Roosevelt NRA LMPEA is to manage grazing activities that were specifically authorized by federal law in 2001 in a manner that is consistent with the National Park Service mission and policies, and the park purposes. This plan is only relevant to land within Lake Roosevelt National Recreation Area.
Concession Management
Concession Management Plan 1997
Concession Management Amendments 2001
The purpose of this Concession Management Plan is to define an appropriate level of concession facilities necessary to provide for visitor use and enjoyment of Lake Roosevelt and the adjacent federally owned lands.