Attention!
Lake Roosevelt NRA announces that the Draft Fire Management Plan and Environmental Assessment (FMP/EA) is available for public review and comment. The purpose of the Lake Roosevelt NRA Draft FMP/EA is to replace the existing FMP/EA by adding project areas for hazard fuel reduction and to revise the operating guidelines for project implementation, expanding the use of mechanical methods and the continued use of prescribed fire to accomplish park management objectives.
The public comment period is open from October 29, 2014 through November 29, 2014. The National Park Service encourages the public to access the document online through the PEPC (Planning Environment and Public Comment) website http://parkplanning.nps.gov/.

Upcoming Prescribed Burns
April 16th: Rickey Point: The Lake Roosevelt NRA Fire Crew will try to implement a prescribed burn at Rickey point as early as April 16th. Burning is dependant on the weather. This unit is in prescription now but a slight chance of rain over the week may delay ignition.
Fire Management Plan
2009 Errata FMP

Environmental Assessment October 16, 2000

The Resource Management Plan (1997) acknowledges the need for suppression of all fires and for the development of a prescribed fire management plan. It states "… a full suppression policy is in effect… A prescribed fire program is being developed … for the fire-dependent (seral) ponderosa pine (Pinus ponderosa) forests in the park".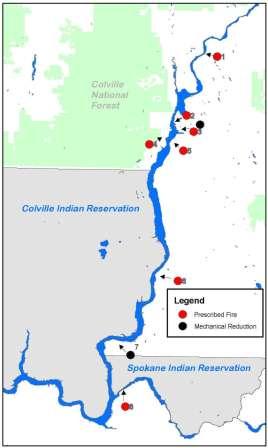 2013 Fuel Reduction Projects
There are eight proposed fuel reduction projects for 2013. Click on the map for more details.
For more information on Lake Roosevelt's Fire Management Program, check out our 2012 Fire Mailing.