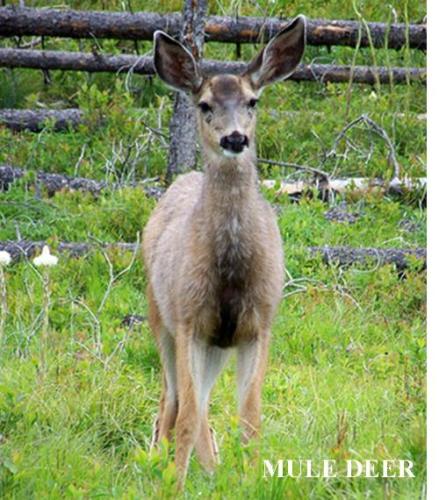 LAKE MEREDITH NATIONAL RECREATION AREA NON-GAME HUNTING SEASON:
RABBIT: October 25, 2014-February 22, 2015
COYOTE: October 25, 2014-February 22, 2015
To report hunting or game violations contact a Park Ranger or Game Warden, or call (800)792-GAME or 911.
During the White-tailed General Deer Season and Special Youth Seasons, ALL HUNTERS MUST WEAR BLAZE ORANGE CLOTHING. Clothing consists of both a hat and vest totaling 400 square inches worn conspicuously above the waist. We highly recommend that Blaze Orange be worn during the entire gun season inside Lake Meredith National Recreation Area.
Note: Migratory bird hunters on the waters of Lake Meredith are exempt.
*Special White-tailed Youth Hunts* are restricted to persons 16 years of age or younger. A Special Resident Hunting (Type 169) license is required. Youth Season at Lake Meredith National Recreation Area is for White-tailed deer only.
Hunting for game species not listed in this brochure is prohibited within the boundaries of Lake Meredith National Recreation Area and Alibates Flint Quarries National Monument.
Hunting or releasing feral livestock within the boundaries of the park including feral pigs is prohibited.
Permanent stands or blinds are prohibited.
Temporary blinds must have the hunter's name and telephone number on the blind, and the blind must be removed within 24 hours of hunt.
Baiting of animals is prohibited.
Shooting from across a roadway is prohibited.
As of February 22, 2010, a new federal law allows people who can legally possess firearms under applicable federal, state, and local laws, to legally possess firearms in this park. It is the responsibility of visitors to understand and comply with all applicable state, local, and federal firearms laws before entering this park. As a starting point, please visit our state's website. http://www.statutes.legis.state.tx.us/Docs/PE/htm/PE.46.htm Federal law also prohibits firearms in certain facilities in this park; those places are marked with signs at all public entrances.
Camping for up to 30 days between October 1 and December 31 is allowed. Leaving a camp unattended for more than 24 hours is prohibited. Digging or leveling the ground for a camp is prohibited.
Fires are not permitted in the backcountry. Burning pallets with nails/hardware in them is prohibited unless the hazards are removed before burning.
Traveling off designated roads with motor vehicles is prohibited.
Use of artificial light is prohibited.
Operating an OHV outside designated areas is prohibited.
Target shooting or weapon sighting is prohibited. Weapons may only be discharged at legal game. Primitive black powder weapons may be discharged prior to transport in a motor vehicle.
NO HUNTING IS ALLOWED AT ANY TIME WITHIN THE BOUNDARIES OF ALIBATES FLINT QUARRIES NATIONAL MONUMENT.