Boating
Boating continues to be available at Lake Meredith National Recreation Area, but on a reduced scale as lake levels are at a record low. The only open boat ramp is at Sanford-Yake, near the Sanford Dam. The National Park Service is concerned for the safety of all visitors; therefore we strictly enforce boating safety regulations.
Permits are required to boat at Lake Meredith. Permits can be purchased at park headquarters in Fritch. A one-day permit costs $4.00, three-days $10.00, and annual $40.00. Permits are half price for holders of the Golden Age or Golden Access Pass.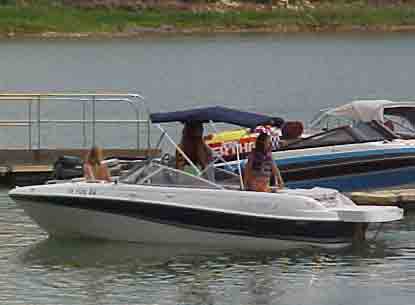 NPS Photo
Boats can be launched at the Sanford-Yake boat ramp.
Weather changes in the Texas Panhandle very quickly. We attempt to notify boaters of inclement weather by sending patrol boats around the lake with a siren. Also, wind warning systems have been installed at Sandy Point and Fritch Fortress. These systems have a wind-driven propeller, which will activate stroble lights when the winds reach 20 mph.