Photos & Multimedia
Loading the player...


Lake Mead Adopts 100 Percent Genuine Class of 2016

In 2009, Lake Mead National Recreation Area adopted sixth grade students to participate in "Graduation 2016, Healthy Land, Healthy Us". The program uses real life experiences to connect kids to the outdoors and continues until their graduation in 2016. Here are some highlights.

Duration:

3 minutes, 27 seconds

Visit our Flickr page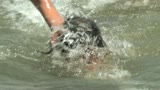 Drowning Prevention Media
Short videos based on actual events at Lake Mead, Spanish and English versions.

Partnerships in Education
A ten minute film that features the educational outreach of Lake Mead National Recreation Area and it's partners. Click here for video.

Discover
Lake Mead NRA education staff making a difference in the lives of students. Click here for video.