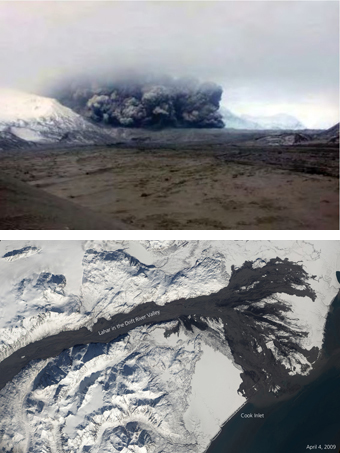 Upper photo courtesy of AVO/USGS
Lower photo courtesty of NASA
Pyroclastic Flows and Lahars
In the same way that the gases in a can of soda cause the liquid to explode when shaken and opened, the gases exploding out of the viscous magma can cause pyroclastic flows to blast down the flanks of the volcano at speeds exceeding 100 miles per hour when either a plume or overstepped dome collapses. Pyroclastic flows are hot, dry, gaseous avalanches that incorporate lava fragments ranging in size from as large as boulders to as small as ash.
With temperatures of up to 1500ºF, pyroclastic flows rapidly melt the glacial ice and snow that cap these volcanoes, creating rivers of mud known as lahars. Some lahars begin flowing long after the volcano erupts when rain is absorbed by the pyroclastic material. Both lahars and pyroclastic flows can travel for miles and can bury or destroy everything in their path.
Redoubt's 2009 cycle of eruptions produced at least five pyroclastic flows and 20 lahars. The largest lahar occurred on April 4th, 2009. Consisting primarily of sand, andesite, and water, it flowed 20.5 miles down the Drift River to Cook Inlet, and was up to 2 miles wide and 19 feet deep in some places.