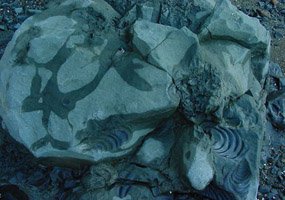 NPS Photo / Chad Hults
Coastal cliffs between Cook Inlet and the eastern side of Lake Clark National Park hold fossil remnants of 150 million years of sea life.
Please look at, touch, and enjoy these unique fossils! We ask you, however, to resist the temptation to take them home. Removing fossils from the park and preserve is illegal. Although Lake Clark seems remote, in fact many people visit the area. If visitors take fossils and other artifacts, eventually there will be no more left and our national heritage will be impoverished.
"Alaska's Jurassic Park"
Lake Clark National Park & Preserve contains marine sedimentary rocks containing fossils that span from the Permian (~260 million years ago) to the Cretaceous (~70 m.y.a.). Marine sedimentary rocks can be found throughout the park, but the eastern Cook Inlet coast holds one of the most complete and best preserved Jurassic (145-201 m.y.a.) sedimentary rock sections in the world.
These Jurassic rocks were formed offshore of the paleo-Alaskan coast as an island arc in the paleo-Pacific ocean, much like the modern Aleutian arc. The Lower Jurassic rocks of the coast are made up of volcanic and volcaniclastic sedimentary rocks of the Talkeetna Formation, which is the volcanic carapace of what is called the Talkeetna Arc.
Rocks of the Talkeetna Arc span across southern Alaska from Wrangell-St. Elias NP&P, through the Talkeetna Mountains (its namesake) and Lake Clark NP&P, to Katmai NP&P. Data from related rocks suggest that during the Lower Jurassic, the rocks of the Alaska Peninsula were far south of their current position relative to the North American continent1. Overlying the Lower Jurassic volcanic rocks are Middle and Upper Jurassic marine sedimentary rocks that contain abundant marine fossils. These rocks also span across southern Alaska, but extend further southwest along the Alaskan Peninsula to Aniakchak NM&P.
The Middle Jurassic rocks contain a rich diversity of marine invertebrate fossils (ammonites, bivalves, and belemnites), which indicate that the rocks were formed in productive, warm waters. Whereas, the Late Jurassic rocks contain almost exclusively bivalves of the genus Buchia, which were cold water "Boreal" mussel like animals.
This change in biodiversity from the Middle to Late Jurassic also occurred on the North American continent2, so it is not clear how much the change in fossil diversity was caused by plate tectonics moving the Talkeetna Arc northward, or global climate change. However, a recent discovery of glacial deposits in Late Jurassic marine sedimentary rocks3 near Lake Clark NP&P suggests that these rocks could have been farther north than their present position relative to the North American continent. In addition to the invertebrate fossils, the Late Jurassic marine sedimentary rocks also contain Ichthyosaur4 and Pliosaur5 fossil bones, and rare dinosaur tracks6.




NPS Photo / Jeff Shearer


Fossils of Fossil Point
Fossil Point, located on the Cook Inlet coast in Tuxedni Bay, is an important fossil locality, because it contains one of the most productive marine invertebrate fossil sites known in Alaska. The Middle Jurassic Tuxedni Group contains exceptionally rich and diverse megainvertebrate faunas: ammonites, bivalves, and belemnites.
The most common fossils are large and abundant Retroceramus bivalves, but it also contains very large ammonites. The fossils of Tuxedni Bay were first described and illustrated by Eduard von Eichwald. A significant fossil collection was made by the Russian mining engineer Peter Doroschin during the mid-nineteenth century and sent to the Russian capital at St. Petersburg, where they were ultimately studied and described by Eichwald7.
A field study was conducted during August 2014 by the National Park Service to evaluate the paleontological and stratigraphic setting of the rocks exposed at Fossil Point8. Fossils were collected for analysis and stratigraphic control was completed by measuring stratigraphic sections. Fossil Point is located in a remote and difficult to access location, so having a representative fossil collection housed at the NPS Alaska Region Curatorial Center makes the Fossil Point fossils more accessible to the public and park staff for research and education.
Novel digital photogrammetry methods are being used to create interactive, three dimensional models of the fossils. Many of the images below link to a 3D model that lets you explore every facet of a given fossil.


Retroceramus
Four new inoceramid species (Inoceramus ambiguus, I. porrectus, I. eximius, and I. lucifer) were established by Eichwald (These fossils were later re-assigned to the genus Retroceramus). There has been subsequent debate by paleontologists as whether all four species are valid, or merely represent ecological variants belonging to one or two species. It is clear in the recent collection that there are four distinct species as recognized by Eichwald:
Retroceramus porrectus
View a 3D model of this fossil
Pleuromya
Other very common, but little studied fossils include the abundant Pleuromya bivalves.
There are four distinct species of the genus Pleuromya that include:
P. aleutica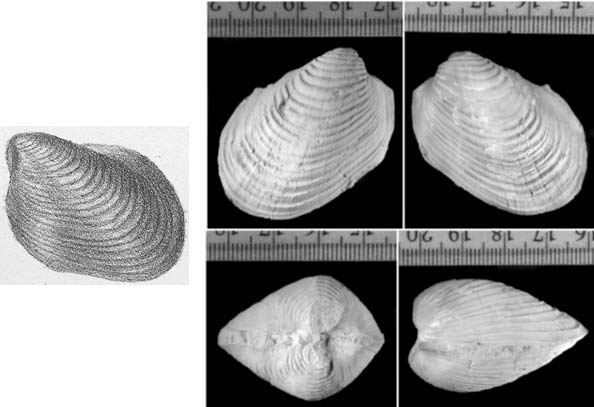 NPS Photo / Robert Blodgett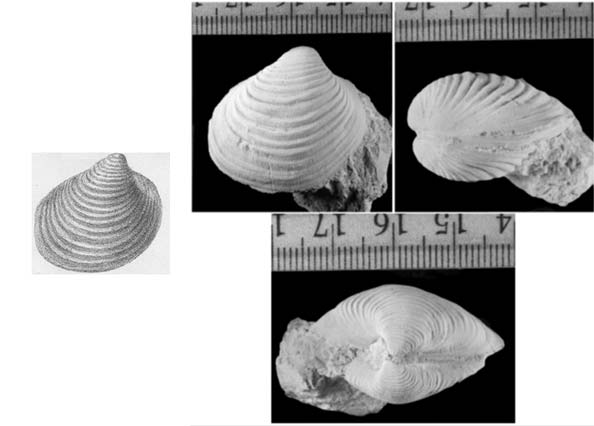 NPS Photo / Robert Blodgett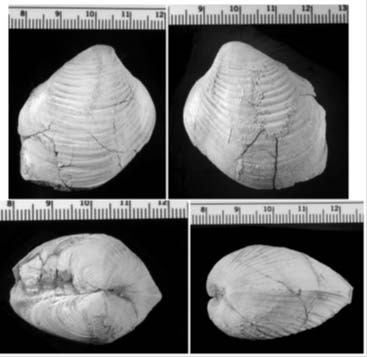 NPS Photo / Robert Blodgett
Pleuromya sp. 2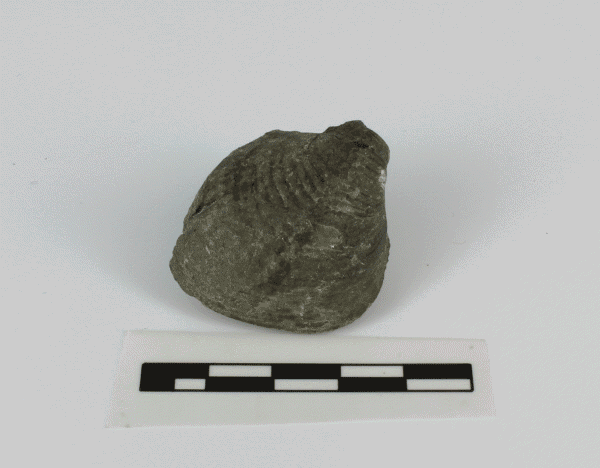 Pholadomya
The collection contains only one transverse elongate bivalve of the genus Pholadomya:
Pholadomya sp. 3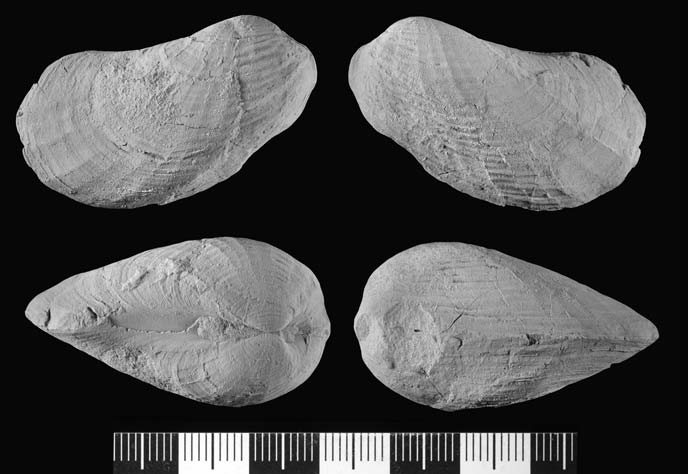 NPS Photo / Robert Blodgett
Pinna
Numerous bivalve fossils of the genus Pinna, a muscle-like animal, are present throughout the section.

Pinna aleutica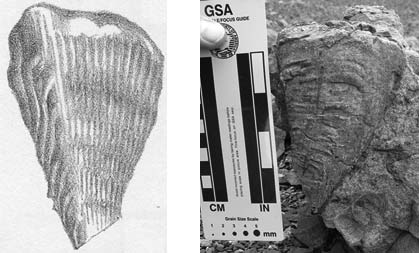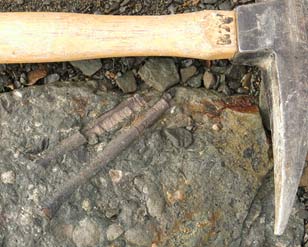 NPS Photo / Chad Hults
Belemnitida
Properly classifying the few belemnites collected may hold important clues to the biogeography and migration patterns of this common fossil. Work is being done to identify the collected specimens to the species level.
Examination of the belemnites collected have led to the preliminary identification of three genera:
Probable Pachyteuthis (left) and possible Megateuthis phragmocone (right)

Courtesy Dave Schraer
Ammonites
The ammonites of the Tuxedni Group were thoroughly studied by the USGS Paleontologist Ralph Imlay
9, 10
. There is a great diversity of ammonite fossils preserved at the site.
Ammonites evolve relatively fast, rapidly changing their shell shapes and decorations, so they are useful for age dating. Only a few examples are provided here, but the large Stephanoceras is the most common genus.
Stephanoceras juhlie
Holotype housed in the Smithsonian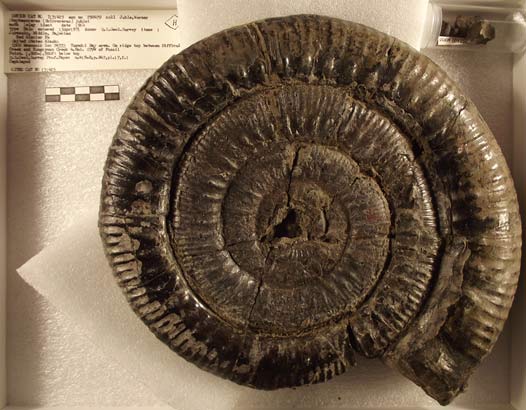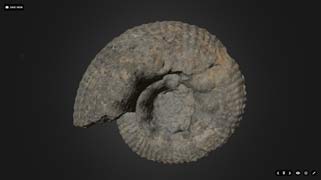 Zemistephanus charlottensis
This specimen was named "Humpty Dumpty," because it fell apart into about 20 pieces during transport from the field. Careful work gluing put Humpty Dumpty back together again.
View a 3D model of this fossil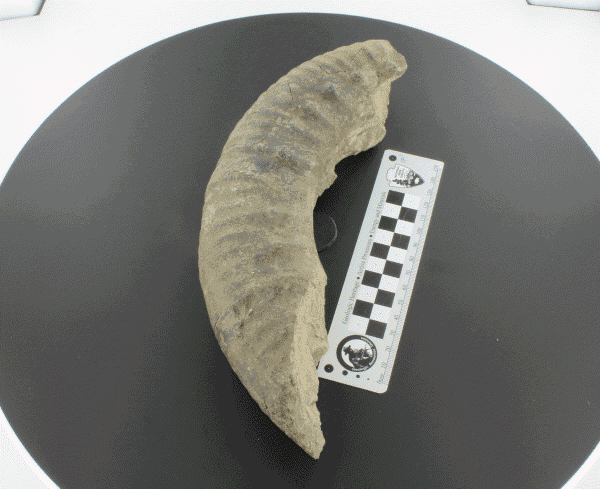 NPS Paleontological Resources
You are welcome to look at, touch, and enjoy these unique fossils, but resist the temptation to take them home. Paleontological resources may not be collected from Federal or state land without a permit. Although the Lake Clark area seems remote, in fact many people visit the area. If visitors take fossils and other artifacts, eventually there will be no more left and our national heritage will be impoverished.
The uplands of the Cook Inlet coast are managed by the NPS, and the tidelands are state lands. Neither the Federal nor the Alaska state governments allow collection of fossils from their lands without a permit. The following laws protect the fossils of the area:
Paleontological Resources Preservation Act of 2009
"Paleontological resources may not be collected from Federal land without a permit…"
Under the law, the NPS is directed to "…manage and protect paleontological resources on Federal land using scientific principles and expertise. The Secretary shall develop appropriate plans for inventory, monitoring, and the scientific and educational use of paleontological resources, in accordance with applicable agency laws, regulations, and policies. [and]…Establish a program to increase public awareness about the significance of paleontological resources."
Alaska Historic Preservation Act
The submerged coastline is state land, and Alaska Statute 41.35 does not allow collecting of fossils. A person may not appropriate, excavate, remove, injure, or destroy, without a permit from the Commissioner, any historic, prehistoric, or archeological resources of the state. The commissioner may issue a permit for the investigation, excavation, gathering, or removal from the natural state, of any historic, prehistoric, or archeological resources of the state.
Definitions: "Historic, prehistoric, and archeological resources" includes deposits, structures, ruins, sites, buildings, graves, artifacts, fossils, or other objects of antiquity which provide information pertaining to the historical or prehistorical culture of people in the state as well as to the natural history of the state.
References
1. Kent, D. V. & Irving, E. Influence of inclination error in sedimentary rocks on the Triassic and Jurassic apparent pole wander path for North America and implications for Cordilleran tectonics. Journal of Geophysical Research 115, (2010).
2. Imlay, R. W. Presidential Address - Jurassic marine faunal differentiation in North America. Journal of Paleontology 39, 1023–1038 (1965).
3. Wartes, M. A. & Decker, P. L. Late Jurassic glaciers during the Mesozoic greenhouse: Evidence from the lower Naknek Formation, southern Alaska. in Geological Society of America Abstracts with Programs 47, n. 4, 8 (2015).
4. Fiorillo, A. R., Kucinski, R. & Hamon, T. New frontiers, old fossils: Recent dinosaur discoveries in Alaska National Parks. Alaska Park Science 3, 4–9 (2004).
5. Weems, R. E. & Blodgett, R. B. in Geologic studies in Alaska by the U.S. Geological Survey, 1994 (eds. Moore, T. E. & Dumoulin, J. A.) 169–176 (1996).
6. Druckenmiller, P. S., May, K. C., Blodgett, R. B., McCarthy, P. J. & Fowell, S. J. First record of Jurassic dinosaurs in Alaska from the Naknek Formation (Kimmeridgian-Tithonian), Peninsular terrane. Sixth International Conference on Arctic Margins (2011).
7. Eichwald, E. von. Die Miocän- und Kreideformation von Aläska und den aleutischen Inseln: Geognostisch-Palaeontologische Bemerkungen ber die Halbinsel Mangischlak und Aleutischen Inseln. (Buchdruckerei der Kaiserlichen Akademie der Wissenschaften, 1871).
8. Blodgett, R. B., Hults, C. P., Stromquist, L., Santucci, V. L. & Tweet, J. S.
An inventory of Middle Jurassic fossils and their stratigraphic setting at Fossil Point, Tuxedni Bay, Lake Clark National Park & Preserve, Alaska
. 158 (National Park Service, 2015). at


9. Imlay, R. W. Middle Bajocian ammonites from the Cook Inlet region, Alaska. U.S. Geological Survey Professional Paper 418-B B1–B61 (1964).

10. Imlay, R. W. Early and middle Bajocian (Middle Jurassic) ammonites from southern Alaska. U.S. Geological Survey Professional Paper 1322 38 (1984).