Stories can be written, spoken, or inferred from places and objects; and in a place like Lake Clark, all three kinds are valuable in understanding an area and its people, past and present.

Park Produced Publications

Check out descriptions of books and stories about the people of Lake Clark, past and present. These range from investigations into the prehistory of Alaska Natives, to first-hand accounts of Alaska Native culture and the experiences of other Americans seeking to make a living, through industry or self-sufficiency, in this remote part of the world.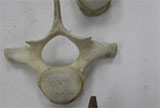 NPS Photo
Stories From Bones
In this video, Dr. Michael Etnier describes how animal bones from archaeological sites provide clues for what the landscape looked like in the past and how our world has changed over time. Watch
Understanding Climate Change Through Archaeology

Oral Histories
The Lake Clark Jukebox Project - Listen to storytelling by Native community members and watch slideshows of historic photographs. Part of a University of Alaska Fairbanks program, this project consists of photo albums and recorded interviews that represent different, but overlapping, historic themes. These include stories about:
early education
reindeer herding
the establishment of this national park, as well as trails and transportation
Dena'ina technology.
Object of the Month Blog
The Lake Clark National Park & Preserve museum collection consists of more than 200,000 objects - from an impressive herbarium to the many journals, letters, and objects from the park's most famous resident, Dick Proenneke. Each items has a story to tell in our monthly blog series.
Windfall - the Fishing Sailboats of Bristol Bay
Loading the player...

Windfall - the Fishing Sailboats of Bristol Bay

For nearly a century, sailboats powered the fishing industry in Bristol Bay. At the mouth of the Kvichak River, Bristol Bay is one of the largest salmon fisheries in the world, and the protection of the fishery is one of the major reasons for the creation of Lake Clark National Park, at the headwaters of the Kvichak.

Duration:

19 minutes

Credit / Author:

NPS Video