Your Safety
For your safety:
Park regulations exist for your safety and for the protection of natural and cultural resources. Please obey all park rules and regulations.
Stay on designated trails.
Bicycles are only allowed on Main Park Road. A bicylce rack is provided at the Vistor Center.
Pets are not allowed in the buildings and must be on a leash no longer than 6 feet and attended at all times.
Regulations prohibit picking and digging of plants, hunting, and metal detecting.
Firearms prohibited
Skateboards, scooters and rollerblades prohibited.
Safety Tips:
-Beware of poisonous snakes such as rattlesnakes and copperheads, which are found within the park.
-Watch out for ticks, stinging insects and poison ivy.
-Beaware of lightning strikes on ridge tops.
-Have proper clothing and plenty of water. Summers are hot and humid. Winters are generally mild but can often get cold.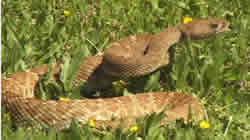 Did You Know?

In the battle at Kings Mountain many families were divided. The Logans had 2 brothers on each side, the Goforths had one Patriot and three Loyalists, the Mattocks had two Patriots and one Loyalist.