Battle Enthusiast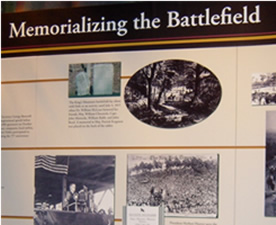 The following are offered to help you get a better understanding of this important battle.
Film "Battle for Kings Mountain"
Our 26 minute film is a good place to begin your visit. The film is produced by the History Channel and gives a really great overview of the battle. The film shows every 45 minutes.

Museum
The newly renovated museum features state of the art exhibits. Upon entering the exhibit area you will see an original Ferguson Rifle, one of very few in museum collections. The museum is designed to replicate an old growth forest, with several trees talking as they tell the story of the battle and the people involved. Many artifacts are displayed throughout the museum. It is a must see!

Battlefield Trail
The 1.5 mile self-guiding walking trail allows the visitor to see both perspectives of the battlefield. It starts by winding below the northern slope of the ridge where a portion of the Patriot forces assaulted the ridge top. The trail turns back across the ridge where the Loyalists forces surrendered. Wayside exhibits around the trail highlight battle events. The Centennial Monument, U.S. Monument and Ferguson's Grave are key features along the trail.
The trail is foot travel only with the exception of motorized wheelchairs. Although the trail is paved, it is steep in places. Benches are located along the trail.
Did You Know?

African Americans played an important role in the Rev War. Many served with the British, who promised freedom and used runaway slaves to fight against the Americans. Some states offered land to free men or freedom to slaves. Five African Americans are known to have fought in the battle of Kings Mtn.