Accessibility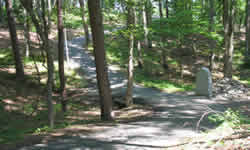 Mobility Impaired
All facilities in the park are wheelchair accessible. Restrooms are handicapped accessible. A wheelchair is available at the Visitor Center. Handicapped parking spaces are located in front of the Visitor Center.
Battlefield Trail
Although the trail is paved, it is steep and has severe cross slopes. Persons in wheelchairs should use caution.

Hearing Impaired
"Battle for Kings Mountain" video program is closed-caption upon request.

Museum exhibits have LED monitors.

Visually Impaired
Battle Map display is in Braille.
Museum exhibits have audio descriptions.


Did You Know?

Only about 100 of Ferguson's men wore red coats, the other 900 or so were local Loyalist militia. The Patriots wore white paper in their hats, the Loyalists used a pine sprig in their hats. As the battle of Kings Mountain went on many Loyalists tore out their pine spring to switch sides.