Plan Your Visit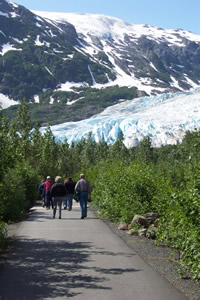 NPS Photo
Come explore this dynamic ecosystem with us.
Uncover the mysteries of an ever-changing landscape; rocks revealing the signature of past glacial advance, valleys growing as ice retreats, boulders recording the origin of glacial ice.
Discover the habits of the park's diverse wildlife; mountain goats giving birth by the sea, black bears enjoying a ride down a snow chute, bald eagles cruising the thermal currents on a sunny day.
Recover your sense of wonder and your enthusiasm for adventure here in Kenai Fjords National Park.

Did You Know?

The Dall's porpoise may be the fastest small cetacean on the planet. It has been reported to reach speeds of 30 knots. These creatures delight in riding the bow waves of tour boats in Kenai Fjords.