Plan Your Visit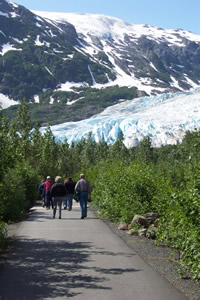 NPS Photo
Come explore this dynamic ecosystem with us.
Uncover the mysteries of an ever-changing landscape; rocks revealing the signature of past glacial advance, valleys growing as ice retreats, boulders recording the origin of glacial ice.
Discover the habits of the park's diverse wildlife; mountain goats giving birth by the sea, black bears enjoying a ride down a snow chute, bald eagles cruising the thermal currents on a sunny day.
Recover your sense of wonder and your enthusiasm for adventure here in Kenai Fjords National Park.

Did You Know?

There are 3 distinct types of Orca whale that roam the waters around Kenai Fjords National Park: residents that eat fish, transients that eat marine mammals, and less frequently viewed offshore orcas that stay in open water eating fish - including sharks.