Fishing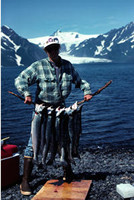 © Jim Pfeiffenberger
The area surrounding Kenai Fjords National Park has outstanding opportunities for both fresh and salt water fishing. Within the park's backcountry you can fish for salmon and Dolly Varden per state regulations. The fjords and Resurrection Bay are hotspots for salmon, halibut, rockfish, and lingcod. You can fish right from shore in Seward and opportunities abound for freshwater fishing in the lakes and streams in nearby Chugach National Forest.
State fishing licenses are required. Fishing charters are available year-round. For more information on licenses or fishing regulations visit the Alaska Department of Fish and Game website.


Did You Know?

With 570,374 square miles, Alaska is twice the size of Texas and 1/5 the size of the rest of the United States. It stretches 2,400 miles east-to-west and 1,420 miles north-to-south. Its 6,640-mile coastline is 50 percent longer than the combined east and west coasts of the United States.