Road to Exit Glacier Closed for the Winter

The Herman Leirer Road (also known as the road to Exit Glacier) is closed to all vehicle traffic for the 2014-2015 winter season. Please see "Current Conditions" for the latest updates. More »
Fishing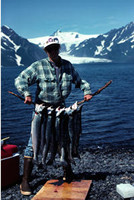 © Jim Pfeiffenberger
The area surrounding Kenai Fjords National Park has outstanding opportunities for both fresh and salt water fishing. Within the park's backcountry you can fish for salmon and Dolly Varden per state regulations. The fjords and Resurrection Bay are hotspots for salmon, halibut, rockfish, and lingcod. You can fish right from shore in Seward and opportunities abound for freshwater fishing in the lakes and streams in nearby Chugach National Forest.
State fishing licenses are required. Fishing charters are available year-round. For more information on licenses or fishing regulations visit the Alaska Department of Fish and Game website.


Did You Know?

"Killer whales" or orcas are actually quite friendly and often inquisitive about humans. In fact, the group of "resident killer whales" pictured here feeds entirely on fish. Only "transient killer whales" eat marine mammals. No wild killer whale has ever hurt a human being.