Fishing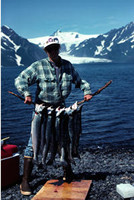 © Jim Pfeiffenberger
The area surrounding Kenai Fjords National Park has outstanding opportunities for both fresh and salt water fishing. Within the park's backcountry you can fish for salmon and Dolly Varden per state regulations. The fjords and Resurrection Bay are hotspots for salmon, halibut, rockfish, and lingcod. You can fish right from shore in Seward and opportunities abound for freshwater fishing in the lakes and streams in nearby Chugach National Forest.
State fishing licenses are required. Fishing charters are available year-round. For more information on licenses or fishing regulations visit the Alaska Department of Fish and Game website.


Did You Know?

The Dall's porpoise may be the fastest small cetacean on the planet. It has been reported to reach speeds of 30 knots. These creatures delight in riding the bow waves of tour boats in Kenai Fjords.