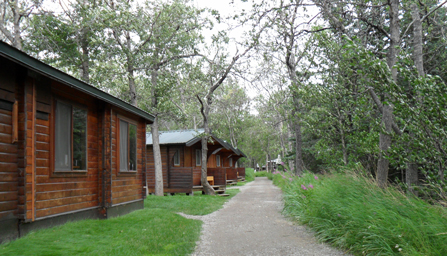 NPS/A. Sammer
Katmailand, Inc. is the only National Park Service authorized concessioner in Katmai offering overnight accommodations and food and beverage service based at Brooks Lodge and Grosvenor Lodge. Katmailand, Inc. also offers guided sport fishing, gifts and merchandise, outdoor recreation equipment rental, public showers, ground transportation and sightseeing, and camper drop-off services.
Brooks Lodge
Lodging at Brooks Camp is available from June 1 until September 17. Reservations are necessary and may be made by contacting Katmailand at www.katmailand.com or by phone at 1-800-544-0551.
Other Lodging Within Katmai
Several other private lodges offer lodging on private inholdings surrounded by the boundaries of Katmai or may offer tour packages within Katmai and throughout the Alaska Peninsula area.
Lodging Outside the Park
Surrounding communities including King Salmon, Naknek, Homer, Kodiak, and Anchorage provide lodging in the vicinity of Katmai. For lodging near park headquarters in King Salmon, the Bristol Bay Chamber of Commerce and the NPS Alaska Region's Commercial Visitor Services are helpful resources.

Accessibility

Which facilities in Katmai are accessible? Read More

Brooks Camp Bearcams

Experience the excitement of Brooks Camp from anyplace with an internet connection. Read More

Stay Connected to Katmai

Join Katmai on Facebook, Flickr, Google+, Twitter and YouTube. Share your park experiences with us and the growing online community. Read More