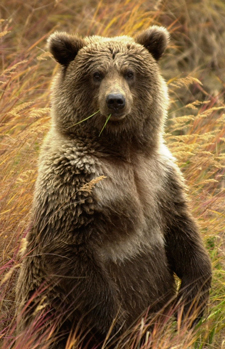 NPS
Remain Calm and Do Not Run
A bear may approach closely or stand on its hind legs to identify you. Identify yourself as a human by talking to the bear calmly and waving your arms slowly above your head. Back away slowly if you can. If you are traveling in a group, use the group's size to your advantage and stay close to one another. Don't Run! Running may encourage a bear to chase you. Bears can run faster than 30 miles per hour (50 km/hr). You cannot outrun them.
If You are Charged
A defensive bear may approach you or even charge. If a bear charges, it perceives you as threat. Most charges are bluffs, but you must take action to try to appear non-threatening by standing your ground and talking calmly to the bear. Don't shout or throw anything. Once the bear has stopped its charge, try to move slowly away. If the bear charges again as you are moving away, stop moving and stand your ground again.
Use your bear spray if you think the bear will attack. Even though most charges are bluffs, there is no cue from the bear indicating that the charge is a bluff.
If a Defensive Bear Attacks
Play dead. Fall to the ground face down on your stomach with your legs apart. Lock your hands behind your neck to protect your neck and face. If you do get rolled over, keep rolling until you're face down again. Don't shout or cry out. Stay quietly in this position until the bear has left the area. Once a defensive bear no longer perceives you as a threat, it will stop attacking. If the attack continues long after you have assumed the protective position, fight back vigorously.
If a Non-Defensive Bear Approaches
A non-defensive bear may approach you for are a variety of reasons — it may be conditioned to human food, curious, or want to test its dominance. Non-defensive bears usually don't show any signs of stress, so you should act assertively. You are trying to dissuade the bear from approaching. As with a defensive bear, stay calm and speak to the bear. Try moving out of its way. If the bear continues to approach, you then want to assert your dominance over the animal — shout, make yourself look large and threatening, throw a rock towards the bear, and prepare to use your bear spray.
If a Non-Defensive Bear Attacks
In North America, brown bear attacks are very rare and non-defensive attacks by brown bears are even more rare. Brown bear attacks are almost always defensive, but if it is not then fight back. Non-defensive bears may consider you prey.
In All Cases
The best defense is knowledge, preparation, and prevention. Arm yourself with a knowledge of bear biology, ecology, and behavior. Prepare yourself mentally for bear encounters before you visit Katmai, and take action when you are visiting Katmai to prevent bear encounters.
When you visit Katmai, you have a responsibility to protect the experience, everyone's safety, and Katmai's bears.