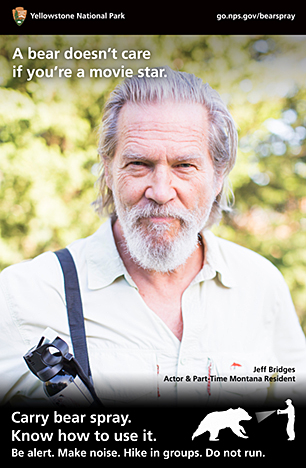 There is an average of one bear attack per year in Yellowstone. In separate incidents n 2011 and 2015, three people were killed by bears inside the park. Your safety cannot be guaranteed.
Safe traveling in bear country begins before you hit the trail:
When you arrive at the park, find out about recent bear activity at a visitor center or backcountry office.
Know what areas are closed for bear management.
Before you set out, be sure to learn what to do if you encounter a bear.
Learn how to reduce your risk of encountering a bear.
Read best practices for camping in bear country.
Report all bear encounters and wildlife incidents to a park ranger immediately.
Please watch our videos and read the information below to help you travel safely in bear country.
Download and share posters from our "A Bear Doesn't Care" campaign!