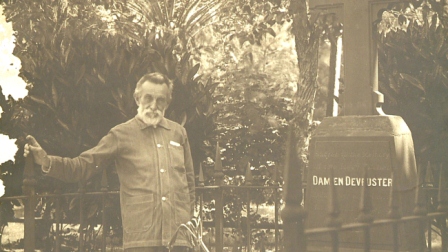 The Call to Kalaupapa
After learning about the plight of Father Damien, he knew his calling was to serve this heroic man. At age 43, he gave away all of his possessions, boarded a steamship to Hawaii and arrived at Kalawao in July 1886. Without any request for recompense, he offered his help to Father Damien. For almost two years he worked side by side with Damien, helping with building projects and caring for the sick and suffering. "Every day," one biographer writes, "he marveled more and more at the courage he saw around him — bravery, he often said, much greater than in the war he had been through." He made a difference. Before Father Damien's death in 1889, Father Damien said: "I can die now. Brother Joseph will take care of my orphans."
After Damien's death Dutton founded the Baldwin Home for men and boys with financial assistance from Henry Perrine Baldwin. Dutton stayed on Molokai for the rest of his life, spending 44 years caring for young boys and men suffering from the effects of Hansen's disease. He became widely known by many distinguished figures in the United States and other countries, including President Woodrow Wilson. President Theodore Roosevelt sent the Pacific Fleet to pass Molokai and dip their colors in salute to this heroic patriot.
Brother Dutton never contracted the disease during his 44 years working at the Kalawao leprosarium. He accepted no pay and directed that his military pension be given to the monks at Gethsemane. He died March 26, 1931 and was buried in the grave next to St. Damien at St. Philomena Church, Kalawao. Before his death on March 26, 1931, he said: "It has been a happy place — a happy life". The Jesuit magazine America noted: "Virtue is never so attractive as when we see it in action. It has a power to believe that we too can rise up above this fallen nature of ours to a fellowship with the saints."