Access to some Cottonwood trails remains closed

Trail access remains closed to Cottonwood Spring Oasis, Lost Palms Oasis, and Mastodon Peak.
Stargazing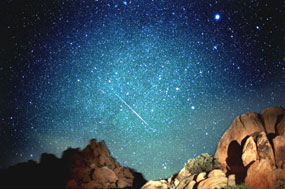 © Wally Pacholka/AstroPics.com
It is estimated that only around 10 percent of the population of the United States is able to see the night sky in its natural, unpolluted state. No wonder visitors to Joshua Tree National Park are awed and astounded when they get their first glimpse of the night sky.
Tour the Milky Way
Camping away from city lights gives many of us city dwellers a chance to see the sky as we have never seen it. A great way to introduce someone to the "dark sky" is to tour the Milky Way with binoculars.
Find one of those star clouds and, without taking your gaze away from it, raise your binoculars to your eyes. The cloud will resolve into hundreds of stars, with perhaps smaller clumps and hazy patches in the field of view.
Notice how the Milky Way seems to be very bright and dense to the south near the horizon? You are looking toward the center of our galaxy, where the stars are richest.
To help identify the many objects you will find with binoculars, you will want a star chart. A circular "star finder," also known as a "planisphere," will show the location of many celestial objects.
Night Sky Programs
Rangers present a variety of night sky programs both at Cottonwood Campground and at the Oasis Visitor Center. Programs are subject to change in the case of inclement weather or illness.

| | | |
| --- | --- | --- |
| February 15 | 7 pm | Oasis Visitor Center |
| | | |
| March 8 | 7 pm | Oasis Visitor Center |
| | | |
| April 12 | 8 pm | Oasis Visitor Center |
| | | |
| May 10 | 8 pm | Oasis Visitor Center |
| | | |


Did You Know?

Joshua Tree National Park has over 550,000 acres of wilderness, offering visitors opportunities to explore where few others have ventured. More...