Education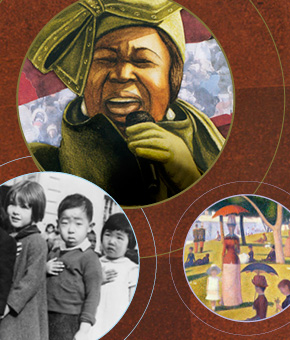 Sources of Inspiration: History through the Arts & the Lives of Artist
A Conference for Teachers of Grades 3-8 and School Librarians
We are pleased to announce that our annual conference for teachers and librarians of grades 3-8 will be held April 1, 2015. Join us for a day of discovery about the arts and lives of artists at the John F. Kennedy Presidential Library and Museum. For more information about Sources of Inspiration: History through the Arts and the Lives of Artists, click here. Download your registration form HERE.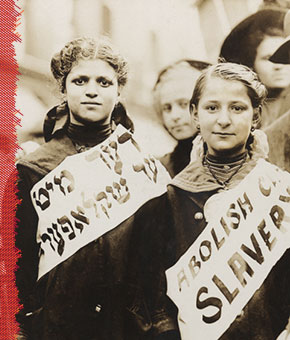 To Light the World:Stories of Hope & Courage for Challenging Times
A workshop for classroom teachers and librarians of grades 3-8
Presented by John F. Kennedy NHS and John F. Kennedy Presidential Library and Museum
Our program on April 3, 2014 featured award-winning authors and educators who provided teachers with tools and inspiration to tackle challenging issues and events in their classrooms. During the morning, attendees heard from authors Walter Dean Myers, Susan Campbell Bartoletti and Doreen Rappaport about their books and how they hope to engage young readers in stories about young people facing difficult choices and circumstances. Author and artist Suzy Becker followed with a lively presentation about her book, Kids Make it Better, and how teachers and educators can help kids work though big problems to come up with creative and often effective solutions. After lunch, teachers explored the power of service learning, poetry and sets of texts selected to engage with conference themes. For many attendees, the highlight of the day was the last hour where they had the opportunity to sit down with one of the featured authors for an in-depth conversation about their work, writing process and inspiration. After a full day participants left feeling energized equipped with new resources and ideas to integrate into their classrooms and share with colleagues.. One participant stated, "I thought [the workshop] addressed very important questions with perfectly chosen 'experts'—inspiring and also full of useful information." To access a bibliography compiled for this workshop, click here. For photos of the event, click here.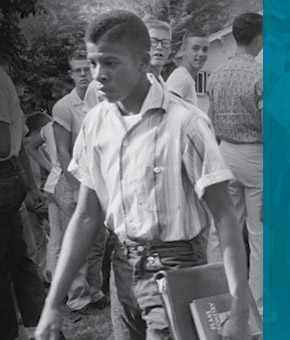 Photo by Thomas J. O'Halloran.
WE'LL NEVER TURN BACK
Voices of the Civil Rights Movement:
A conference for classroom teachers and librarians of grades 3-8

Our program on April 3, 2013 featured remarkable individuals who played a part in the fight for civil rights during the 1960s, as well as award-winning authors who have brought this pivotal chapter in American history to life for young readers. Click here to read more about this inspiring day.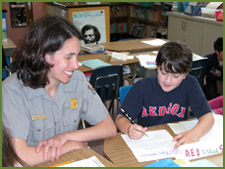 "What John F. Kennedy Means To Me"
Annual Essay And Poetry Program

This annual program engages 3rd grade students from the Edward Devotion School in a month-long exploration of the life and contributions of President John Fitzgerald Kennedy, and culminates in a public ceremony in which students share their impressions of the President and are encouraged to realize their own potential as leaders and citizens with the power to shape the world.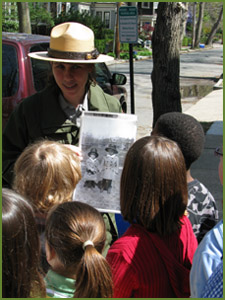 Boyhood In Brookline
The Challenges And Character Of Young Jack Kennedy
Grades 2-5

John F. Kennedy faced a variety of challenges during his boyhood years in Brookline. Through determination, imagination, humor, and family support he overcame these challenges and established a foundation in character that influenced his aspirations and shaped his presidency.

Students taking part in this ranger-led program learn about the challenges Jack Kennedy faced as a child - illness, sibling rivalry, parental expectations - and discover how these experiences shaped his character and prepared him to assume the office of president. The program includes a 45-minute tour of the birthplace and a 50-minute walking tour of the neighborhood.
Photos on this page courtesy of NPS, Kennedy NHS. Top photo by Joel Veak.