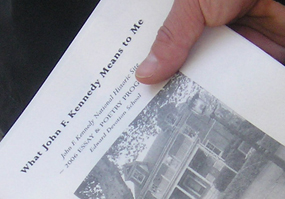 There are many ways to support John Fitzgerald Kennedy National Historic Site and to help preserve it for future generations.
Eastern National Bookstore
Purchase something from the Eastern National sales area of the visitor center. Eastern National is a cooperating association that offers books and other educational items relating to the interpretive themes of John Fitzgerald Kennedy NHS. A percentage of the proceeds from all sales are donated to the park's interpretive program.
Volunteers-in-Parks
Volunteers-In-Parks are Very Important People (VIPs)! The National Park Service is fortunate to receive the valuable assistance of many generous individuals who volunteer their time and talents each year. The VIP program is a great way for those wanting to donate their time, energy, resources, and talents.
To volunteer at the John F. Kennedy site please contact
Jim Roberts, Supervisory Park Ranger
(617) 566-7937 ext.10
or email Jim.
To view more NPS volunteer opportunities go to www.nps.gov/volunteer.
Contributions to John F. Kennedy NHS
The National Park Service welcomes support from the private sector to supplement public funds appropriated by Congress. Donations come to the park from individuals, organizations, foundations, and corporations as expressions of support and enhance the ability of the National Park Service to carry out its programs and activities. Contact us for more information.
Work for the National Park Service
Click here to view jobs available at John F. Kennedy National Historic Site. To search for jobs in National Park Units, please visit www.usajobs.gov. Together, we can all take care of this and other National Parks.