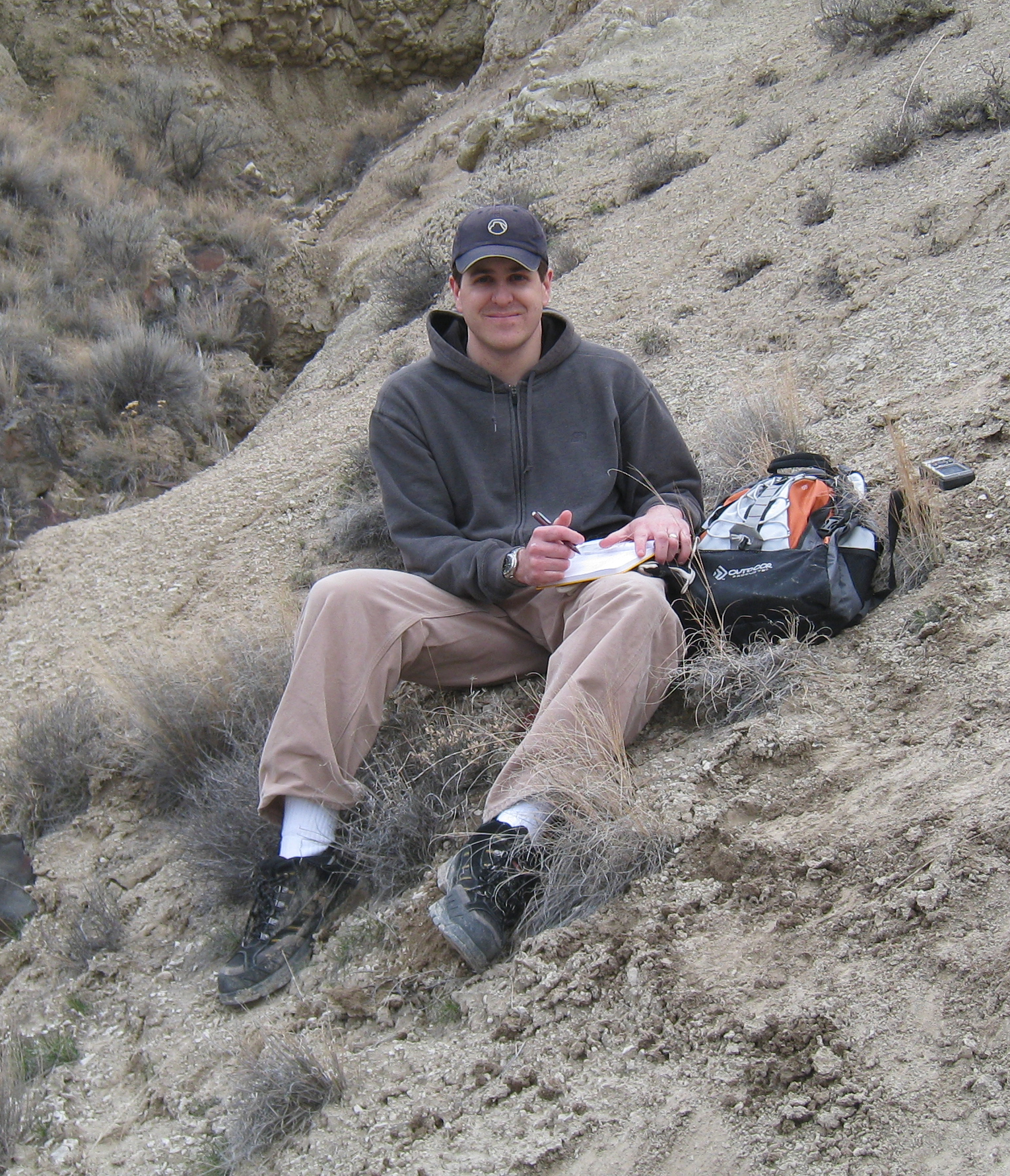 NPS photo
Joshua X. Samuels
Museum Curator/ Paleontologist
Education:
2001 B.Sc., Biology - College of Idaho
2007: Ph.D., Biology - University of California, Los Angeles
2007: Dissertation: Paleoecology and Functional Morphology of Beavers (Family Castoridae)
2007: Ph.D. Advisor: Dr. Blaire Van Valkenburgh
Research Interests: My primary research interests lie in the broad fields of vertebrate paleontology and evolution. My dissertation research was designed to aid in reconstruction of past ecosystems and in understanding of the evolution of rodents. Rodents are the most species rich group of mammals, live in nearly every terrestrial habitat on earth, and display diverse locomotor and dietary adaptations. Relative to larger mammals, rodents tend to have more localized populations, shorter dispersal distances, and shorter generation times. Consequently, rodents are likely to adapt more rapidly to changing conditions, making them very informative as to the timing and magnitude of environmental changes over the Cenozoic. Nevertheless, rodents have been largely overlooked in paleoecological reconstructions due to a lack of data on their ecomorphology.
Much of my research to date has focused on using morphometric techniques to infer the locomotor and dietary ecology of extinct rodents. Living rodents show a diverse array of locomotor types, including: swimming, climbing, digging, jumping, and gliding forms. Though most rodents are omnivores or generalist herbivores, some species have independently evolved highly specialized carnivorous, insectivorous, and herbivorous diets. Examination of skeletal and dental differences between rodents with different habits has revealed how their anatomy relates to functional characteristics. My results can be used by other researchers to easily infer the locomotor and dietary habits of extinct rodents, and to study their evolution over time.
I am currently working on several collaborative projects in the areas of evolution and paleoecology. These include: 1) the evolution of burrowing and semi-aquatic mammals, 2) the evolution of mammalian body size, and 3) the differing responses of large and small mammals to past and future climate change. I am also working on a revision of the lagomorphs (rabbits and pikas) and description of several new species from the John Day Formation.
Disciplinary Expertise: Vertebrate paleontology, evolutionary biology, functional morphology, and paleoecology.
Recent Publications:
Meachen, J.A., and J.X. Samuels. In Press. Evolution in coyotes (Canis latrans) in response to the megafaunal extinctions. Proceedings of the National Academy of Sciences.
Samuels, J.X., and J. Zancanella. 2011. An early Hemphillian occurrence of Castor (Castoridae) from the Rattlesnake Formation of Oregon. Journal of Paleontology, 85(5): 930-935.
Van Valkenburgh, B., A. Curtis, J.X. Samuels, D. Bird, B. Fulkerson, J. Meachen-Samuels, G.J. Slater. 2011. Aquatic adaptations in the nose of carnivorans: evidence from the turbinates. Journal of Anatomy, 218: 298-310.
Rybczynski, N., E.M. Ross, J.X. Samuels, and W. Korth. 2010. Re-Evaluation of Sinocastor (Rodentia: Castoridae) with Implications on the Origin of Modern Beavers. PLoS ONE 5(11): e13990. doi:10.1371/journal.pone.0013990
Samuels, J.X. 2009. Cranial morphology and dietary habits of rodents. Zoological Journal of the Linnaean Society, 156(4): 864-888.
Samuels, J.X., J.A. Meachen-Samuels, and P.A. Gensler. 2009. The first mid-Blancan occurrence of Agriotherium (Ursidae) in North America: a record from Hagerman Fossil Beds National Monument, Idaho. Journal of Paleontology, 83(4): 597-603.
Samuels, J.X. and B. Van Valkenburgh. 2009. Craniodental adaptations for digging in extinct burrowing beavers. Journal of Vertebrate Paleontology, 29(1): 254-268.
Samuels, J.X. and B. Van Valkenburgh. 2008. Skeletal indicators of locomotor adaptations in living and extinct rodents. Journal of Morphology, 269: 1387-1411.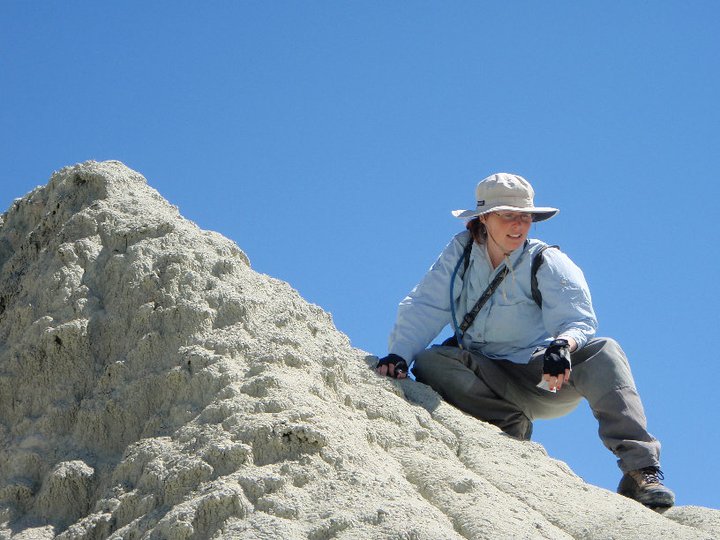 NPS Photo
Jennifer L. Cavin
Museum Technician/Fossil Preparator
Education:
2000. BS in Biology with a minor in Geology from Chadron State College, Nebraska
2004. MS in Paleontology from South Dakota School of Mines and Technology
Master's Thesis: A Pleistocene paleofauna from the Sand Hills of Nebraska, Graves/Potter localities, Cherry County
Jennifer has been preparing fossil specimens since she was an undergraduate in 1997. She remembers her first day in a paleontology lab, "I walked in the door. They handed me a tool and an oreodont skull. I was hooked from that moment on!" Jennifer continued to work as a fossil preparator throughout graduate school. She spent her winters preparing fossils in the School of Mines laboratory, and she spent her summers at Badlands National Park doing field work, mostly at the Big Pig Dig Quarry. After graduation, Jennifer worked at Augustana College in Illinois and for the Utah Geological Survey in Salt Lake City, Utah preparing and doing field work with dinosaurs. Jennifer's first love in paleontology, however, was ancient mammals. So it is not surprising that she jumped at the chance to work with mammals once again. After a brief time at the University of Nebraska, Lincoln, she accepted a job at John Day Fossil Beds NM. Jennifer spends her time preparing, molding and casting the fossil specimens found within the fossil beds. She is also part of the field collecting team. Jennifer really enjoys all aspects of her job and says she has found her permanent home here in eastern Oregon.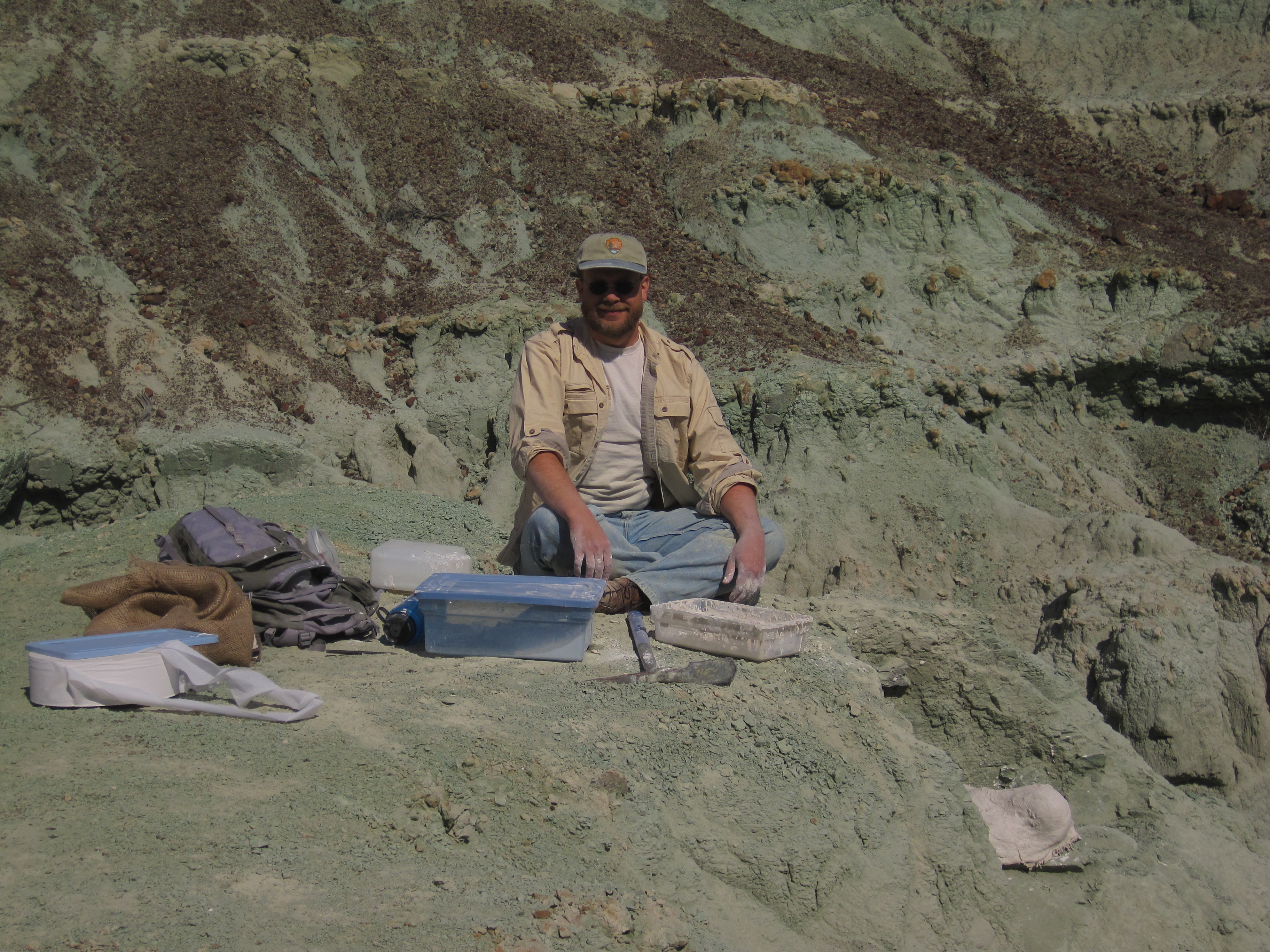 NPS Photo
Christopher Schierup
Collections Manager
I am the collection manager. I am a clerk for fossils. I also assist the senior paleontologist in the collection of fossils.
I began my career in paleontology as a hobbyist, searching for coral and brachiopods in the gravel of my parents' driveway as a child. Later my mother took me to the excavation of a mastodon near our home in Michigan. While my interest stemmed mostly from reading about dinosaurs, one of my favorite fossils was the Dunkleosteus at the Cleveland Museum of Natural History.
In college, I studied biology with an emphasis in evolution and ecology, as well as paleontology. I received my Bachelor's at the Flint campus of the University of Michigan and my master's degree from Northern Illinois University. While pursuing my degrees, I did field work in the Bryce Canyon area of southwestern Utah, screenwashing Cretaceous clays for microfossils such as mammal and small theropod teeth. I also spent time hunting for and excavating larger fragments of dinosaurs, mostly hadrosaurs, though parts of soft-shelled turtles and large crocodiles were also common. My thesis was an examination of tooth morphology in theropods from southern Utah by applying eigenshape analysis. Concurrent to this I volunteered at the Field Museum of Natural History in Chicago performing fossil preparation.
Following my studies I worked as a seasonal for John Day Fossil Beds National Monument, doing much of the same work I do now. After two seasons in Oregon I volunteered at the Cranbrook Institute of Science, in Bloomfield Hills MI, entering the old hardcopy database into its digital successor. Later I worked for Yosemite National Park, cataloging, rehousing and inventorying native american baskets, archives and other cultural objects. After three years at Yosemite I returned to the John Day Fossil Beds and took my current position. During this time I served for one month at the Golden Gate National Recreational Area examining and rehousing aquatic invertebrates preserved in fluid. While here at the fossil beds I organize and track the yearly fossil collections, as well as the monument's archives.