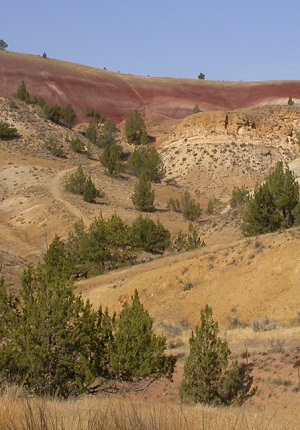 NPS Photo
A small portion of these sequences were formed when massive walls of mud, ash, and debris came crashing down the slope of a volcano, engulfing the surrounding forest and its animal inhabitants. Over time, the mud, silt, soil, and rocks of these lahars, along with wood, nuts, seeds and leaves from the forest floor, were cemented together by silica. This cementing, or hardening of the rocks, was possibly aided by minerals from nearby hot springs. This combination left a solid cliff made up of sand, silt, and clay that entomb the jumbled remains of a forest, now called Clarno Palisades.


The source of the Clarno volcanic rocks is a broad arc of volcanoes formed by flat slab subduction (slab subducts horizontally or near horizontally) beneath western North America, from the Late Cretaceous through the Middle Eocene. These volcanoes produced a variety of rock that characterizes the Clarno Formation. Furthermore, ash falls from these volcanoes yielded the sediment that formed the repeated paleosols of the upper Clarno Formation.

If you would like to view Clarno's geological timeline, check out the generalized stratigraphic column!