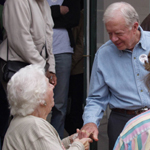 NATIONAL PARK SERVICE
You never know who you may meet when you visit the Jimmy Carter National Historic Site. Fields of peanuts, cotton, corn and other agricultural crops will welcome you to the serenity of the area. You may even see the 39th President of the United States and his wife taking a peaceful, relaxing and invigorating bike ride through the countryside.
We are pleased to share our photos, videos and sound bites with you, but to really experience this rural community, you have to be here. Explore the links and jumpstart a memory or two of visits to the grandparents, then plan a greater exploration to the small, rural community that raised a President.
Loading the player...

President Carter Speaking about his boyhood home

Jimmy Carter speaks about his life on the farm and the people and experiences that had an impact on his young life. It would be these boyhood experiences and lessons that would impact the way that he saw the world.

Duration:

2 minutes, 3 seconds

Credit / Author:

NPS

Date created:

2015-02-04

Download Original File:
Loading the player...

Presidents' Day 2008

President Carter speaks at the Jimmy Carter National Historic Site on Presidents' Day 2008. In his speech he covers the historic Camp David Peace Accords between Egypt and Israel and highlights the ups and downs of the process and the fragile nature of Peace.

Duration:

3 minutes, 57 seconds

Credit / Author:

NPS

Date created:

2015-02-05

Download Original File: