Boat Tours of Bayou Lafourche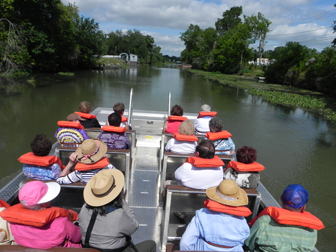 Cruise into Louisiana's past on a boat tour of Bayou Lafourche with a National Park Service ranger. Locally known as "the longest street in the world" in honor of the towns and homes along its banks, Bayou Lafourche once served as a major thoroughfare in watery south Louisiana.
Boat tours are offered in spring and fall; spring 2014 cruising season is February through May when weather permits. Cruises cast off from the dock behind the Wetlands Acadian Cultural Center, 314 St. Mary Street in Thibodaux. Travel to
historic Madewood Plantation on Mondays and Fridays 10:00 a.m.-2:30 p.m. Tickets cost $28.25 plus tax (cash or check only) and include lunch in the formal dining room and a guided tour of house and grounds. (No boat tour on Monday, May 26; center closed for Memorial Day.)
the E.D. White plantation home, birthplace of U.S. Supreme Court Chief Justice Edward Douglas White, on Wednesdays 10:00 a.m.-noon. Tickets $5 (cash or check only).
Reservations are required; call the center at 985-448-1375. Tours are limited to 20 people (minimum of eight). Tour participants should dress for a day in the sun and arrive by 9:30 a.m. Group boat tours are available by reservation. No tours on federal holidays when the center is closed.
Did You Know?

Nine-banded armadillos always give birth to four identical young, the only mammal known to do so. They can also delay birth for up to two years after fertilization of the egg.