Field Trips at the Barataria Preserve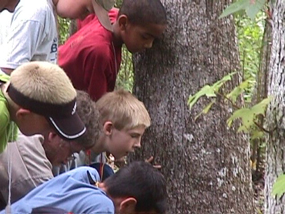 Field trip requests: As of April 17, all slots are now full for ranger-led school field trips through the end of the school year. Note that teachers and other field trip leaders are welcome to bring groups out on their own to walk the trails, use the Pecan Grove picnic area, and explore the visitor center. If you plan to bring a group on your own, please call the Barataria Preserve Visitor Center at 504-689-3690 ext. 10 to let the rangers know; they will be able to tell you if other large groups are expected when you plan to visit.
If you need a fun activity for your self-guided group when exploring the preserve trails, try Barataria Bingo! Download the pdf and see what you can see and hear at the preserve.
---
At the Barataria Preserve in Marrero near Crown Point, students can enjoy field trips on the trails, to the visitor center, to the preserve's Environmental Education Center, or all three!
Your group can visit the preserve on their own or you can request a ranger-led program. Please call the preserve at 504-689-3690 ext. 25 whether or not you plan to request a ranger program; this will allow us to alert you to possible other large groups visiting the preserve on the same day you are planning to come.
Follow these links for
Follow these links for curriculum materials: