Columbus Day Closures

All park sites closed Monday, October 13, for Columbus Day. Follow the link for information about park hours and days and about access to the Barataria Preserve and Chalmette Battlefield/Chalmette National Cemetery on holidays. More »
History & Culture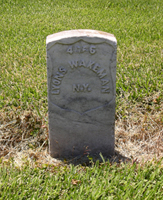 Sometimes remarkable stories are where you least expect to find them. This simple Civil War headstone at Chalmette National Cemetery marks the final resting place of a woman who disguised herself as a man to fight for her country.
The six sites of Jean Lafitte National Historical Park and Preserve represent a treasure trove of south Louisiana's historical and cultural riches. People from nearly every country, ethnic group, language, and religion have come to the lower Mississippi River delta and left traces of their passing.
As author William Faulkner wrote, "The past is never dead. It's not even past." In south Louisiana, the places where history happened are around every corner and down every bayou, and the well-worn skills and traditions of previous generations are revered at the same time they're adapted for life in a new century.
Follow the People and Places links to find out more about history and culture at Jean Lafitte National Historical Park and Preserve.
Follow the links below to learn about:


War of 1812 Bicentennial

The Battle of New Orleans, fought at what is now Chalmette Battlefield, was the last major battle of the War of 1812. Find out how Jean Lafitte is commemorating America's "second war of independence." Read More

Community Creations

See what schools and other groups are doing at Jean Lafitte! Read More

Investigators in Action

Find out what Jean Lafitte investigators are learning. Read More
Did You Know?

Tourism has been big business in New Orleans for decades. Before the Civil War, the top must-see site on everyone's New Orleans list was its port, one of the world's busiest at the time. (Early 1800s guides for travelers actually used the term "must-see!")