Road Work, Detours and Closures
BRIDGE EMBANKMENT STABILIZATION AT COLLEGE CREEK, MILL CREEK AND ISTHMUS BRIDGES PROJECT:
Project work involves stabilization of flood damaged bridge embankments. Work includes placing riprap along the embankments and bridge abutments for College Creek, Mill Creek and Isthmus bridges.
Construction began on September 9, 2013. Expect completion is early January 2014.
Drivers could experience intermittent delays due to construction activities. No weekend or night work is currently planned.
Use this link to the Eastern Federal Lands Highway: Colonial Parkway web page for current staus.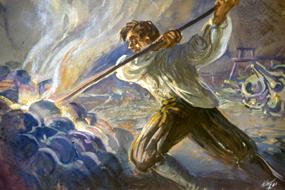 NPS
GLASSBLOWING DEMONSTRATIONS TEMPORARILY SUSPENDED:
Glassblowing demonstrations at Historic Jamestowne will be temporarily suspended while the glassblowers repair and rebuild the glass furnace. This project will take approximately two weeks.
The Glasshouse gift shop will remain open so you can still purchase that favorite piece of glass or get an early start on your Christmas shopping. While you are making your selection and purchase you can watch at the glassblowers rebuild their furnace. Come and see a unique prospective into the art of glassblowing. Image how difficult it must have been in the 17th century to build their furnaces.
Did You Know?

The only known drawing of James Fort, known as the Zuniga Map, was obtained by the Spanish Ambassador in England who was spying on the Jamestown colony.