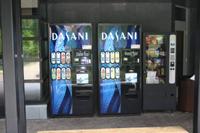 NPS Image
The Historic Jamestowne Visitor Center has three vending machines on the back patio with drinks, water and snacks. These vending machines are operated by Preservation Virginia through the museum gift shop. If you need assistance with the machines or change please see the gift shop attendants.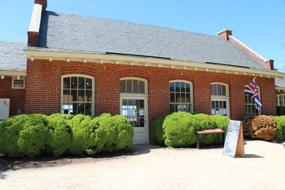 NPS
Preservation Virginia also operates the Dale House Cafe adjacent to the archaeological site along the James River. The Carrot Tree Kitchens are the concessionaires and provide a limited menu for our visitors. Visitors can enjoy Carrot Tree's buttermilk ham biscuits, homemade chicken salad, BBQ, or a hummus wrap along with a variety of scrumptious sandwiches, soups, salads and desserts. The Dale House Café hours of operation are 11 am - 4:30 pm, seven days a week. Stop by and enjoy lunch or a light snack along the banks of the James River during your next visit to Historic Jamestowne.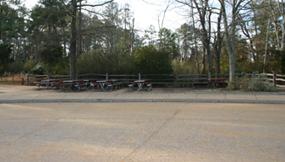 NPS Image
Picnicing on the Historic Site is prohibited. However, there are two small picnic areas in the Visitor Center parking lot. They are located on the east end of the parking lot. The larger area contains eight picnic benches and the smaller area contains four picnic benches. Each picnic bench can seat eight adults or perhaps 10 students.
These picnic areas are "Leave No Trace" areas so we ask that you take your trash with you when you leave.