For our younger visitors we have several special family oriented programs: the Junior Ranger Program and Pinch Pot.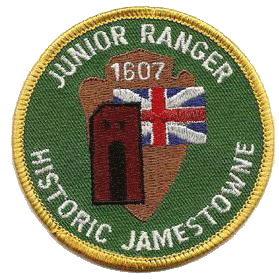 NPS Image
Junior Ranger Program:

The Jamestown Junior Ranger program is designed for visitors between the ages of 6-12. To become a Junior Ranger our young visitors must complete several activities in the Junior Ranger booklet. The booklets are purchased from the gift shop for the nominal fee of $1.75. It generally takes about two hours or more to complete the program and gives our young visitors, and their parents, a good background into the history of Jamestown. At the successful completion of the booklet each prospective Junior Ranger will have the certificate at the end of the booklet signed and be presented a patch designating them a Junior Ranger of Jamestown.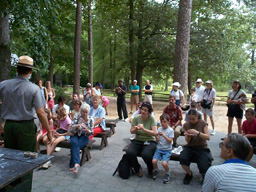 NPS Image
PINCH POT PROGRAM:

The Pinch Pot program is a hands-on 20 minute children's program that will introduce participants on how the American Indians and English settlers made and used pottery. Each child receives a small ball of clay to make a souvenir pot using the pinch method employed by American Indians. All families with children are encouraged to attend. The program is generally held Monday through Friday from mid-June through mid-August. This program is staff and weather dependent. The program will be canceled during inclement weather or staff shortages. Ask at the Visitor Center to determine if the program will be conducted on the day of your visit. NOTE: This is now part of our Chidren in Nature Program and is conducted Monday through Friday at 1pm, see below for more information about the Children in Nature Program.
Children in Nature Programs:

Colonial National Historical Park, Historic Jamestowne, will offer special one-hour outdoor nature programs for children ages 6-12, June 25-August 24, 2012. Children must be accompanied by an adult.

The programs are FREE and will be conducted Monday through Friday, from 10:30am to 11:30am and 1:30 p.m. to 2:30 p.m. The programs include hands-on activities and a short outdoor walking tour highlighting the natural setting of the area.
Groups of 5 to 15 children (ages 6-12) require reservations [2 weeks in advance].

For more information, or to make a reservation, call 757-898-2410, Monday through Friday, 9:00 a.m. to 4:00 p.m.