You may purchase glass items produced in our glasshouse through on-site sales, regular mail, phone and e-mail. Hours of operation are 8:30 a.m. to 5:00 p.m. daily, except Christmas Day and New Years Day when Historic Jamestowne is closed. To place an order or make inquires contact: Jamestown Glasshouse, 1368 Colonial Parkway, Jamestown, Virginia 23081, Phone: (757) 229-2437, FAX: (757) 229-4273 or e-mail: gwynj@easternnational.org
For a more complete catalog of glassware for purchase you can access the Eastern National website store and order on-line there.
School groups can pre-order Jamestown Glass Paper Weights. There are five designs: 400th Anniversary, Dated, Ship, Glassblower, and Pocahontas (see images below). Paper Weights measure approximately 3½ to 4 inches in diameter. They range in price from $5.95 to $2.50. You can pre-order your paperweights by calling (757) 229-2437 or use this link for the Glasshouse Paper Weight Order Form. Just print the form and fax or mail it in. The form must be received at least two weeks prior to your visit.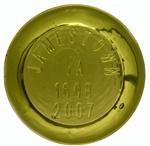 Dated Paper Weight
- with text: Jamestown VA 1608-2007 - Approximate 3.5 inch diameter
$2.95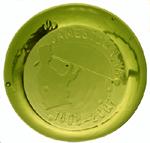 Glassblower Paper Weight
- Image of glassblower with text: Jamestown 1608-2007 - Approximate 3.5 inch diameter
$2.95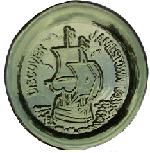 Ship Paper Weight
- Image of a sailing ship with the text: DISCOVER JAMESTOWN - Approximate 3.5 inch diameter
$2.95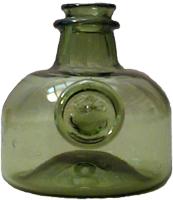 Armorial Wine Bottle
, short nexk with arm seal, c.1700, standing 7" - Replica of a 1680's-1700 wine bottle. Some Jamestown wine bottles have been found with seals attached as in our example to the left. Wine bottle seals might show a family crest or contain an individuals initials much like a monogram.
$29.95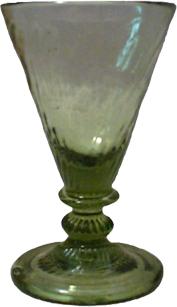 Wine Glass
, ribbed conical glass, c.1670, standing 5"
$24.95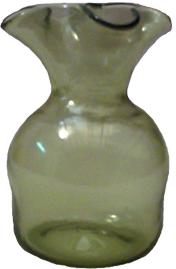 Six lipped vase
, standing 6" -
$12.95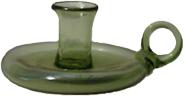 Colonial candleholder
, small dish condlestick, standing 3"
$15.95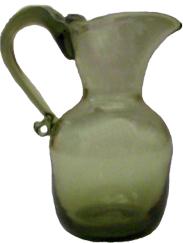 Pitcher
with a heart shaped spout, standing 6"
$14.95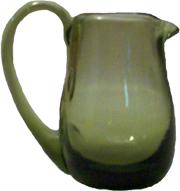 Creamer
, tear drop shaped pitcher with reversed handle -
$9.95