For our younger visitors we have several special family oriented programs: the Junior Ranger Program and Pinch Pot.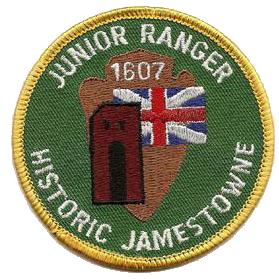 NPS Image
JUNIOR RANGER PROGRAM: YEAR ROUND
The Jamestown Junior Ranger program is designed for visitors between the ages of 6-12. To become a Junior Ranger our young visitors must complete several activities in the Junior Ranger booklet. The booklets can be purchased from the museum gift shop at the National Park Service Visitor Center for $1.00. It generally takes about two hours or more to complete the program and gives our young visitors, and their parents, a good background into the history of Jamestown. At the successful completion of the booklet each prospective Junior Ranger will have the certificate at the end of the booklet signed and be awarded a patch designating them a Junior Ranger of Jamestown.
.
CHILDREN IN NATURE/PINCH POT PROGRAM : JUNE 14-AUGUST 16, 2015

This special one-hour outdoor nature program, designed for children 6-12, consists of a short, ranger-led walking tour looking for flora and fauna found on Jamestown Island. The program uses hands-on and visual learning techniques, including each participant making a small, souvenir clay pinch pot. This portion of the program highlights the use of clay pottery for cooking and storage of food by both the Virginia Indians and the English in 17th century Virginia.
This program will be conducted
Friday
through
Tuesday
at
10:00 a.m.
for about one hour and again at
1:00 p.m.
for about an hour. The program will run from
June 14 to August 16, 2015
, staffing and weather permitting. Groups of 5 to 15 children must make a reservation 2 weeks in advance by calling 757 856-1243. This program is free with paid admission to the park by adults (children 15 and younger have free park admission). All children must be accompanied by an adult. Upon arrival at the Historic Jamestowne Visitor Center, ask at the Information Desk for additional information about this program.