Winter Hours/Fishing

Historic Jamestowne has new winter hours for the opening of the entrance gate. From December 1, 2013 through February 28, 2014 the entrance gate will open at 8:45 am. Please note that fishing in no longer allowed any where on the Island.
Tradesmen on the Lot of Governor Harvey - 1630s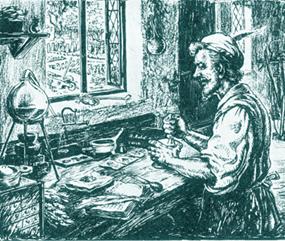 NPS artist Sydney King
Governors such as Sir John Harvey and Sir William Berkeley were concerned that Virginia colonists had become too focused on tobacco as a primary means of support. The tobacco market was subject to great fluctuation and could not be relied upon as a sure-fire way to a quick fortune. In addition, natural resources which could be minimally processed and exported were not being exploited and opportunities for industrial experimentation were not being explored.
When Sir John Harvey arrived in Virginia in the Spring of 1630 as the colony's new governor, he set to work following the King's instructions to begin producing marketable goods. In May, Sir John sent samples of rape seed, salt peter, pot-ashes and iron ore to England, proof that the Privy Council's instructions were being taken seriously. In his reports, the new governor stated that ship-building had begun and that iron ore had been discovered; he also urged that craftsmen such as brickworkers, carpenters, smiths and shipwrights be sent to Virginia.
Archeologists have found evidence of craft and trade activities at several Jamestown sites. A lime kiln and brick kiln were excavated by the James River near the present-day Memorial Church. Near the Pitch and Tar Swamp, an industrial zone dated prior to 1650 was unearthed in the 1950s, revealing a brewhouse and apothecary, as well as evidence of the production of pottery, brick, tile and lime.
Did You Know?
Sturgeons have five rows of bony plates, called scutes, covering the head and body. These scutes are often found in the excavation of James Fort; the abundance of scutes in the archeological record supports the historical record.