The Home of Governor Harvey - 1630s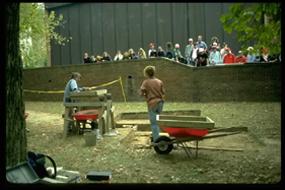 National Park Service photograph
John Harvey served as a member of a royal commission investigating conditions in Virginia in 1624. As a reward, he received land at the east end of New Towne, where he probably built a residence and wharf.
When newly-knighted Sir John Harvey returned from England in 1630 as Jamestown's new governor, he acquired this prime New Towne lot. It was likely here where he built his fine house, which often served as a statehouse during the 1630s.
Although the Crown replaced the contentious Sir John as governor in 1639, his house continued to be used as the statehouse into the 1650s, and also provided a town residence for Governor Sir William Berkeley. After Nathaniel Bacon's followers burned the capital in 1676, the house was rebuilt a final time.
Did You Know?

Sir Walter Raleigh made England's first serious attempts to settle North America. He launched three expeditions; the third was John White's Roanoke Island settlement, often called "the Lost Colony.