Interpreting Jamestown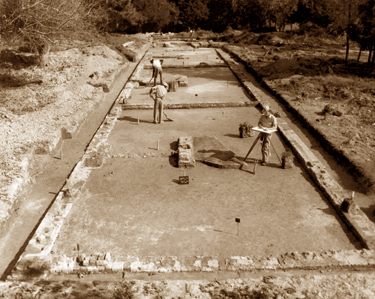 Colonial NHP archives
In 1934, the National Park Service acquired 1,500 acres of Jamestown Island, including New Towne. Since then, the NPS has used a variety of methods to tell visitors about the town. After archeologists unearthed numerous structures with brick foundations and cellars, they left the excavations open for visitors to see. Because reconstruction might damage fragile archeological evidence, and because no-one could say for sure what the original buildings looked like, nothing was built on site. When the exposed foundations suffered from the elements, they had to be reburied.
NPS Image
To prepare for the 350th anniversary in 1957, archeologist J. C. Harrington suggested that "the present foundations, which have been excavated and covered back over, be capped with a layer of concrete and then built up to a point above ground level by old brick obtained during the Jamestown excavation." "The whole town site," he proposed, "should be landscaped to give the feeling of openness under trees."
Did You Know?
Atlantic Sturgeon were over-fished in the 1890's,coupled with a decline in water quality,the population is now greatly reduced;Atlantic Surgeon are now a protected species. The James River is the only river in the Chesapeake region with a confirmed breeding population.