Winter Hours/Fishing

Historic Jamestowne has new winter hours for the opening of the entrance gate. From December 1, 2013 through February 28, 2014 the entrance gate will open at 8:45 am. Please note that fishing in no longer allowed any where on the Island.
Jamestown Fact Sheets
Did You Know?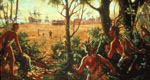 The land the English settled in 1607 was already home to more than thirty Powhatan Indian tribes. Each tribe had its own chief (weroance/weroansqua) who was "ruled" by paramount chief (mamanatowick) Powhatan. This Powhatan Chiefdom spanned all of tidewater Virginia and parts of the Eastern Shore. More...