Winter Hours/Fishing

Historic Jamestowne has new winter hours for the opening of the entrance gate. From December 1, 2013 through February 28, 2014 the entrance gate will open at 8:45 am. Please note that fishing in no longer allowed any where on the Island.
More Than a Fort: Historic Jamestowne's New Towne
Jamestown quickly began expanding beyond the boundaries of the three-sided fort first built on the banks of the James River in 1607. In the 1620s, surveyor William Claiborne mapped out the area to the east of the fort. This land was quickly occupied and used for a variety of purposes by a variety of Jamestown inhabitants and visitors. Use the links below to learn more about the 17th-century story of New Towne, a busy part of Virginia's first capital.
Did You Know?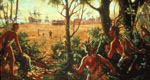 The land the English settled in 1607 was already home to more than thirty Powhatan Indian tribes. Each tribe had its own chief (weroance/weroansqua) who was "ruled" by paramount chief (mamanatowick) Powhatan. This Powhatan Chiefdom spanned all of tidewater Virginia and parts of the Eastern Shore. More...