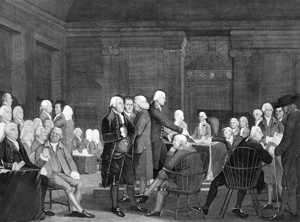 NPS photo
The Second Continental Congress
The Pennsylvania legislature loaned their room out to the men of the Second Continental Congress in May 1775. Meeting just a month after shots had been fired at Lexington and Concord, the men prepared for war. They approved the nomination of George Washington as Commander in Chief of the newly created army, and they approved the resolution creating the Marine Corps. They also pursued peace, drafting the Olive Branch Petition. King George III never responded to that petition and talk began to grow of seeking independence. On July 2, 1776, the men voted to approve the resolution for independence. On July 4, 1776, they voted to approve their document, the Declaration of Independence. The Declaration of Independence was signed in this room on August 2, 1776.
The engraving called
Congress Voting Independence
is the most accurate image of the Assembly Room during the Revolutionary War era. Artist Robert Edge Pine began his oil painting in 1784 but died before completing the work. Painter and engraver Edward Savage finished the work but died before completing the engraving. The plate was later acquired by the Massachusetts Historical Society and engravings were printed in 1859.