Maps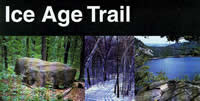 A printed brochure that includes information about the trail along with a state-wide map is available from the National Park Service office in Madison, Wisconsin.
The Wisconsin Department of Natural Resources maintains an on-line interactive mapping resource which allow users to create and print custom maps of the trail.
A comprehensive trail atlas and guidebook is available for purchase from the Ice Age Trail Alliance. The Alliance also maintains an interactive trail map and information about trail conditions on its website.


Wisconsin Department of Natural Resources

Connect to the WDNR mapping website.
Did You Know?

The oldest exposed bedrock along the Ice Age Trail occurs at the Dells of the Eau Claire in Marathon County and Grandfather Falls in Lincoln County.  In both areas bedrock outcrops have been dated at about 1.8 billion years old.