Directions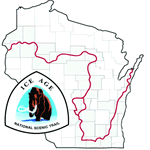 The Ice Age National Scenic Trail stretches nearly 1,200 miles across Wisconsin. Its western end is located in Interstate State Park on the St. Croix River in Polk County. The eastern end is located in Potawatomi State Park on Green Bay in Door County.
Plane
Commercial airports are located in major cities and regional communities throughout the state at varying distances from the Ice Age National Scenic Trail.
Car
Numerous trailheads with parking are located throughout the state.
Public Transportation
Selected points on or near the Ice Age National Scenic Trail are accessible by public transportation. These are typically located in and around metropolitan areas.


Did You Know?

Someone who hikes the entire Ice Age Trail is known as a "Thousand Miler" even though the trail is closer to 1,200 miles long.