Brochures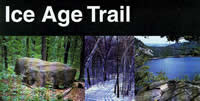 A printed brochure that includes information about the trail along with a state-wide map is available from the National Park Service office in Madison, Wisconsin.
Brochures for many of the state-owned properties along the trail are available from the Wisconsin Department of Natural Resources.
Several brochures are available the Ice Age Trail Alliance including an "Inn to Inn" hiking guide, comprehensive trail atlas and guidebook.


Did You Know?

The Ice Age Trail is built and maintained by volunteers organized into 21 local chapters who annually give over 45,000 hours of their time!