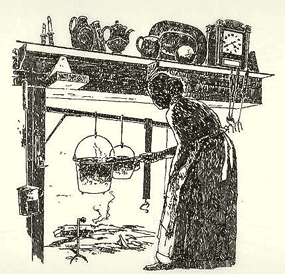 NPS Illustration.
The hills surrounding the furnace provided the wood needed to make charcoal, the fuel used for iron production. Here some women were employed as woodcutters earning 27 cents per cord. During one 30-year period, six women were credited with cutting wood. Elizabeth Mock earned over 90 dollars in two years as a woodcutter, and Elizabeth Hughs was paid for cutting 41 cords of wood in 1836.
Although furnace work and mining were usually regarded as "men's work," women were not totally excluded from these trades. Two widows, Margaret Painter and Elizabeth Mervine, were employed to clean castings and prepare the iron for market. This was a strenuous job, tipping stove plates and other iron items while removing sand from the pattern. They also filed the rough edges from individual pieces. They earned 75 cents per ton of castings cleaned.
Women could also be found at the iron ore mines. During the early 1830s, Mary Beavens, Elizabeth Mauger, and Eliza Painter were paid for mining ore, and Henry Painter collected pay for more than 13 loads of ore sent to the furnace by his daughter.
Furnace records show that from 1837-1846 Jane Clemons was paid as a molder. Like most of the other women who were paid for doing "men's jobs," little is known about her. Did she mold and cast iron products as the men or do the records represent the earnings of an under age son?
As the 19th century drew to a close, Hopewell Furnace could no longer operate profitability as more efficient and cheaper methods of making iron were developed and industries moved out of the rural areas and into the cities. This forced the families of Hopewell to find jobs elsewhere.
Regardless of whether Hopewell women worked in or outside the home, it is clear they added to, or in some cases, entirely provided for their family's income. It is also clear women played an important role in filling many of the needs of this once busy iron-making community.