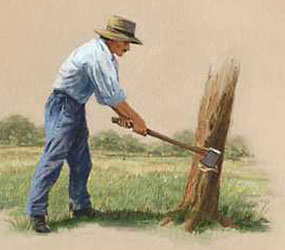 NPS Illustration.
Throughout the furnace's history, woodcutters were the largest group of furnace employees. Of the nearly 250 workers on the payroll from 1835 to 1837, more than 100 were woodcutters. Most woodcutting was done in the winter, when idle colliers were joined by part time employees such as neighboring farmers with time on their hands, unemployed boys, and even women hoping to earn a few dollars. Using only axes, saws and splitting tools, woodcutters could produce an average of two cords of wood per day.
While this may appear to be a large quantity of wood, when converted to charcoal this was only enough to keep the furnace operating for about 2 1/2 hours. An average charcoal hearth of 30 cord of wood converted into approximately 1100 bushels of charcoal, enough to keep the furnace operating for about 1 1/2 days. The annual requirement for charcoal at Hopewell consumed 6000 to 7000 cords of wood, or 200 acres of woodlands each year.
Despite popular myths, charcoal making did not lead to the deforestation of the area. The best kind of wood for making charcoal was hardwood trees that were 25 - 30 years old. A furnace with about 6000 acres of forest could create a system in which woodcutters would cut what they needed from a specific area, then take measures to prevent livestock from eating the new growth, and decades later, woodcutters would work their way back around to this area and cut again.