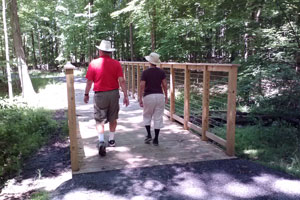 NPS
Hyde Park Trail Map - The Hyde Park Trail connects the three units of the Roosevelt-Vanderbilt National Historic Site. Open daily during daylight hours.
Hyde Park Walkabout Trail Map - Walk 5 Trails on the map and receive a free Walkabout Patch.
- Bicycles are prohibited December - February
- Bicycles are only allowed on the main Lane from March - November. All other trails are prohibited from bicycle use.
History of the Farm Lane Dedicated on November 15, 2008
IN CASE OF EMERGENCY CALL 911
Report Safety & Security Issues to (845) 229-9380.
Report Trail Maintenance Issues to (845) 229-1521
Roosevelt-Vanderbilt NHS Driving Map - Directions for driving between the three units of the Roosevelt-Vanderbilt NHS
Vanderbilt Mansion NHS Site Map - Grounds map of the Vanderbilt Mansion NHS
Home of Franklin D. Roosevelt NHS Site Map - Grounds map of the Home of Franklin D. Roosevelt NHS
Vanderbilt Mansion NHS site Brochure and Map- Side 1 and Side 2
Home of Franklin D. Roosevelt NHS site Brochure and Map- Side 1 and Side 2
Eleanor Roosevelt NHS site Brochure and Map- Side 1 and Side 2