Nearby Attractions
NPS Photo
West Branch, Iowa And Around
The City of West Branch, Iowa is the home of Herbert Hoover National Historic Site. To learn more about visiting West Branch contact Main Street West Branch, a community organization that promotes West Branch's businesses, culture, history, architecture, and commitment to progress.
Historic Downtown West Branch
The West Branch Commercial Historic District is just outside the historic site along Downey and Main streets. It is a national historic district which preserves fifteen downtown buildings built from 1875 through 1929. Learn more about historic preservation, land and water conservation, and community recreation assistance by the National Park Service in Iowa »
Herbert Hoover Highway
Herbert Hoover Highway, a scenic motor trail, connects Iowa City and West Branch with the nearby towns of Springdale, Rochester, Tipton, and Lowden. The highway is exit 249 on Interstate 80. Download a guide (PDF file) »
More Area Information
The Eastern Iowa Tourism Association (EITA) has information on area attractions and events and offers planning services for tour operators.
The Iowa Cultural Corridor Alliance (ICCA) has over 100 members representing arts and cultural organizations in east central Iowa (the Cedar Rapids and Iowa City areas). The ICCA has information on local events, activities and attractions.
The Iowa City/Coralville Convention & Visitors Bureau (ICCCVB) is an excellent resource for visiting nearby Iowa City and Coralville.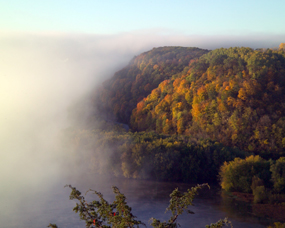 NPS Photo by Ken Block
Effigy Mounds National Monument
Effigy Mounds National Monument near Marquette, Iowa preserves over two-hundred American Indian mounds. Thirty-one are effigies in the shape of bears and birds and are found along hiking trails offering magnificent views of the Mississippi River. Learn more »
Silos and Smokestacks National Heritage Area
Silos & Smokestacks National Heritage Area is a network of historic and cultural sites in eastern Iowa that tell the American story of farm life, agribusiness, and rural communities, past and present. Learn more »
Other Federal Recreational Lands
Find national parks, wildlife refuges, and other federal recreational lands. Visit Recreation.gov »