Herbert Hoover, mining engineer, humanitarian, statesman, and 31st President of the United States, was born August 10, 1874 in a simple two-room cottage in West Branch, Iowa. His Quaker family had helped settle the town, and their principles of honesty, hard work, simplicity, and generosity guided Hoover throughout his life of service to the nation and the world.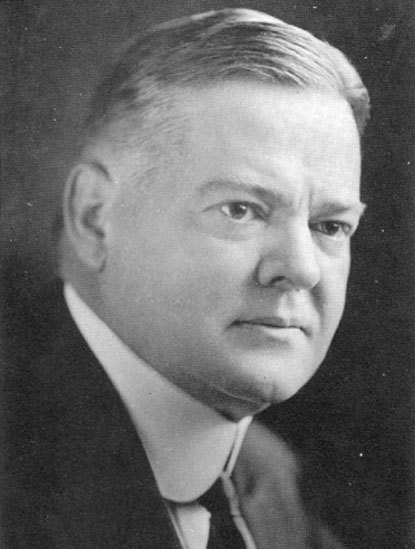 Herbert Hoover Presidential Library and Museum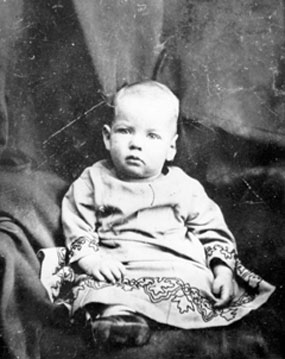 Herbert Hoover NHS Collection
Herbert was the second of three children born to Jesse and Hulda Hoover. Jesse, a blacksmith by trade, sold his blacksmith shop and opened a farm implement business in 1878. The Hoovers soon moved to a larger house on Downey Street, but they did not enjoy their new prosperity for very long. Jesse died of a heart attack in December 1880.
Hulda was able to save the money from Jesse's insurance policy for her children's education. In 1884 she caught a cold that developed into pneumonia and then typhoid fever, which caused her death. The children were sent to live with various relatives. Herbert went to his Aunt Millie and Uncle Allan Hoover on a farm near West Branch.
When he was 11, Herbert's relatives sent him to Newberg, Oregon to live with Hulda's brother, Dr. Henry John Minthorn, and his family. Herbert attended the Friends Pacific Academy, where Dr. Minthorn was superintendent. In 1888 the family moved to Salem, and Herbert worked in the office of his uncle's Oregon Land Company. In 1891 Herbert entered the first class of Stanford University in Palo Alto, California. He graduated in 1895 with a degree in geology and went to work in the California gold mines. In 1897 he joined a British firm and worked as a mining engineer in Australia.
On Februrary 10, 1899 Hoover married Lou Henry, whom he had met at Stanford. They had much in common: roots in Iowa, love of the outdoors, a sense of adventure, and college degrees in geology. They left immediately for China, where Hoover continued his career. There, in 1900, the Hoovers survived the Boxer Rebellion, an uprising of Chinese nationalists. Hoover became a partner in Bewick, Moreing and Co. in 1901. Known as the "doctor of sick mines," he circled the globe several times accompanied by Lou and his two young sons, Herbert, Jr. (born 1903) and Allan (born 1907). Hoover retired from the company in 1908 and established his own international firm of engineering consultants based in London. In 1912, the Hoovers' English translation of the 16th-century Latin treatise on mining, De Re Metallica, was published; it remains a standard reference work to this day.
Hoover's humanitarian efforts during and after the First World War, as well as his service as Secretary of Commerce, made him a highly respected figure. He easily won the Presidency in 1928, but the bright prospect of his administration was soon overshadowed by economic disaster. On October 29, 1929 the stock market collapsed, triggering a depression that forced Hoover's ideals into conflict. Individualism demanded that private institutions provide relief, but humanitarianism called for federal aid. As a result, Hoover did more than any previous President to relieve the widespread distress, paving the way for the anti-depression New Deal measures. He introduced banking reform legislation, created the Reconstruction Finance Corporation, developed an agricultural credit system, and convened an economic conference to promote trade and stabilize currencies. It was not enough. Hoover's popularity evaporated, and he lost to Franklin D. Roosevelt in the 1932 election.
Hoover retired to his Califonia home and devoted much time to the Hoover Institution. He maintained his interest in the welfare of young people and once again worked on food relief for European countries during and after World War II. His final act of public service was leading commissions to make the federal government more efficient.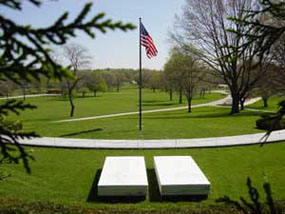 NPS Photo
Herbert Hoover died October 20, 1964, and was laid to rest five days later on a hillside gravesite overlooking the cottage where he was born. His wife is buried beside him.