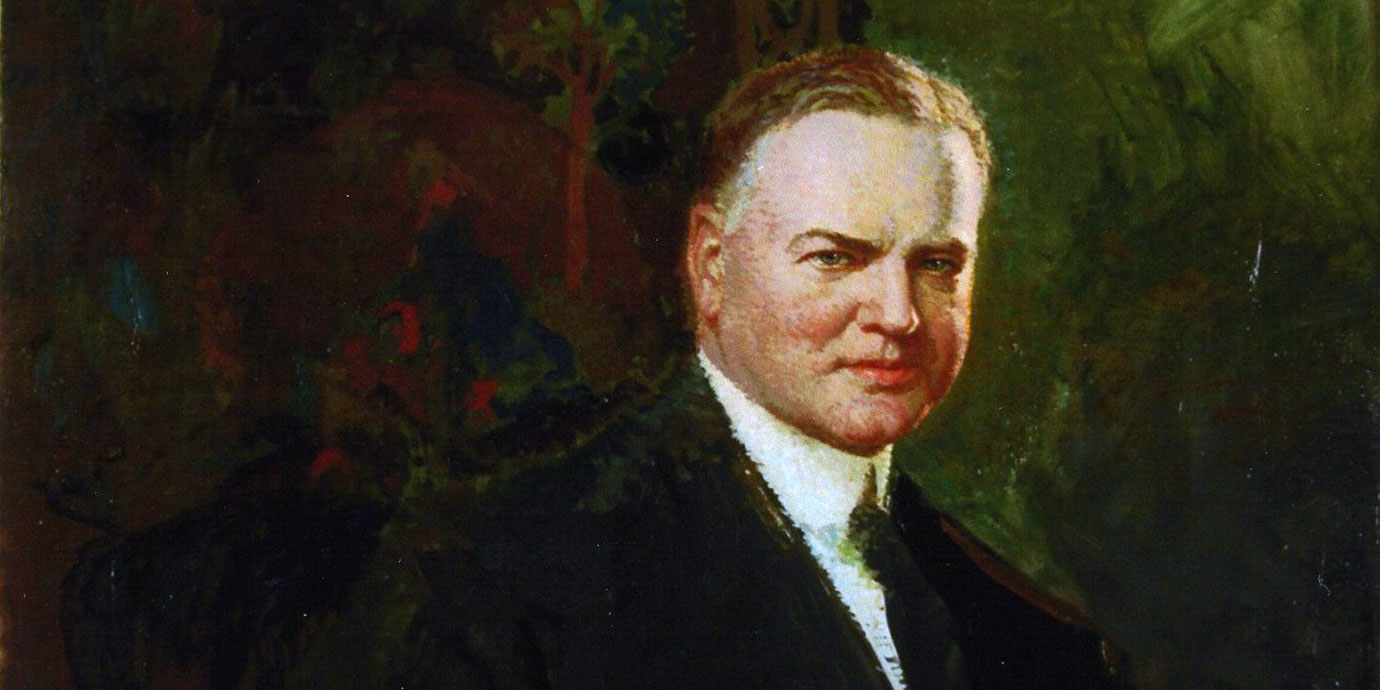 "Herbert Hoover, President-Elect," painting by Henry Salem Hubbell
My country owes me no debt. It gave me, as it gives every boy and girl, a chance. It gave me schooling, independence of action, opportunity for service and honor. In no other land could a boy from a country village, without inheritance or influential friends, look forward with unbounded hope.

Herbert Hoover
Herbert Hoover, mining engineer, humanitarian, statesman, and 31st President of the United States, was born August 10, 1874 in a simple two-room cottage in West Branch, Iowa. His Quaker family had helped settle the town, and their principles of honesty, hard work, simplicity, and generosity guided Hoover throughout his life of service to the nation and the world.
Simple Beginnings
Herbert Hoover's journey began in 1874 in a two-room cottage in the center of West Branch, Iowa. His ancestors arrived in horse-drawn wagons hoping to find a new life for their families as they settled in this developing, primarily Quaker, midwestern rural community. Learn more »
Triumphs & Tragedies
Herbert Hoover grew up in a supportive family and as a member of a close-knit Quaker community. His childhood experiences in West Branch included the deaths of both parents. Young Herbert relied on values like hard work and faith to overcome being an orphan. Learn more »
Adversity Leads To Opportunity
From the ups and downs of his childhood Herbert Hoover grew to be a resilient and self-reliant man. As his personal achievements mounted, he came to believe that uncommon character opened doors of opportunities, and that individuals acting conscientiously and cooperatively could together solve great problems. Learn more »
A Memorial & A Legacy
Following his presidency, the Hoover family wanted to create a place where the values Herbert believed in could be shared with all Americans. The park reflects the Hoovers' and their supporters' vision of how anyone might achieve the American Dream.
Learn more »
Other Historical Homes, Museums, and Places to Learn About Herbert Hoover
Herbert Hoover Presidential Library and Museum
The Herbert Hoover Presidential Library and Museum has extensive exhibits, research materials, and Web-based information on the life of Herbert Hoover.
Camp Rapidan
Camp Rapidan, now part of Shenandoah National Park in Virginia, was the Hoovers' private mountain retreat during the presidential years.
Hoover Institution on War, Revolution, and Peace
The Hoover Institution on War, Revolution, and Peace at Stanford University in California is a public policy research center devoted to advanced study of politics, economics, and international affairs. Herbert Hoover, a Stanford graduate, founded the institution.
Hoover-Minthorn House Museum
The Hoover-Minthorn House Museum in Newberg, Oregon was Herbert Hoover's home from 1885 to 1889. It is preserved as a memorial to him and to the lifestyle of the Quaker community in which he was raised as a boy. The house is owned and operated by The National Society of The Colonial Dames of America.
Leonora Gwalia Historical Museum
The Leonora Gwalia Historical Museum in Australia includes the site of the Historic Hoover House, commissioned and built in 1898 for Herbert Hoover when he was the manager of the Sons of Gwalia mine.
Lou Henry and Herbert Hoover House
The Lou Henry and Herbert Hoover House, completed in 1920, was the Hoovers' first and only permanent residence. Herbert donated the home to Stanford University after his wife Lou died in 1944. It is not open to the public.
White House
Like every president except George Washington, Herbert Hoover called the White House and its surrounding grounds his place of work, rest, and solitude. President and Mrs. Hoover lived in the White House from 1929 through 1933.