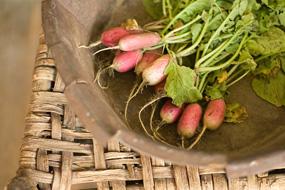 Linda Staats
Hulda soon set about arranging the home to suit herself, both inside and out. A chicken coop provided fresh eggs. She grew her vegetable garden behind the cottage, while flower gardens of marigolds, peonies, and snapdragons filled the front and side yards. And just like today, seeds, cuttings and bulbs, were traded with family and friends. The dark red double-petaled tulips that once grew here came from the bulbs Hulda's mother had brought with her from Canada.
Looking around this house, you may think the Hoover family was poor. But their prudent spending, strong work ethic, and resourceful ways were actually a reflection of their Quaker beliefs. With that in mind, you can understand why Herbert Hoover was inspired to write these heartfelt words in his memoirs:
"This cottage where I was born is physical proof of the unbounded opportunity of American life. In no other land could a boy from a country village, without inheritance or influential friends, look forward with unbound hope."