Birthplace Cottage
Like any couple just starting out, 21-year old Hulda Minthorn and 23-year old Jesse Hoover were eager to have a place to call their own. Shortly after their first wedding anniversary, and with the help of his father Eli, Jesse built this simple, but sturdy two-room cottage in the spring of 1871 on the corner of Downey and Penn streets.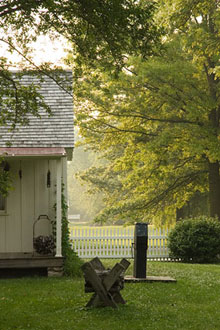 Linda Staats
Although the house only measured 14 feet by 20 feet, building it was a challenge. The home's large foundation stones had to be brought by wagon from the open prairie to the west, while the timber used for the board and batten cottage followed an amazing journey of its own.
Look up at the rafters and see if you can find any that have holes drilled into them. That's where the trees were lashed together into a giant raft, which was floated down the Mississippi River to a sawmill in Muscatine, about 40 miles southeast of West Branch. There they were turned into lumber, then hauled by ox teams to the home site. Some of the wood was used for the cottage's straight board doors, while more was used for the large vertical wallboards inside the home. Did you know that during the cottage's restoration, architects found strips of cotton fabric stuffed between the seams? Jesse Hoover installed these to be sure his family would be protected from the winter winds that swept across the Iowa prairie. The small twelve-paned windows also helped by preventing too much heat from escaping the cottage.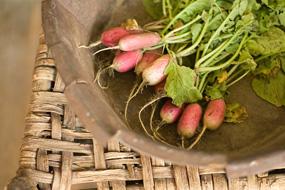 Linda Staats
Hulda soon set about arranging the home to suit herself, both inside and out. A chicken coop provided fresh eggs. She grew her vegetable garden behind the cottage, while flower gardens of marigolds, peonies, and snapdragons filled the front and side yards. And just like today, seeds, cuttings and bulbs, were traded with family and friends. The dark red double-petaled tulips that once grew here came from the bulbs Hulda's mother had brought with her from Canada.
Looking around this house, you may think the Hoover family was poor. But their prudent spending, strong work ethic, and resourceful ways were actually a reflection of their Quaker beliefs. With that in mind, you can understand why Herbert Hoover was inspired to write these heartfelt words in his memoirs:
"This cottage where I was born is physical proof of the unbounded opportunity of American life. In no other land could a boy from a country village, without inheritance or influential friends, look forward with unbound hope."
Audio Tour Stop 104: Birthplace Cottage

Like any couple just starting out, 21-year old Hulda Minthorn and 23-year old Jesse Hoover were eager to have a place to call their own.

Duration:

2 minutes, 46 seconds

Credit / Author:

NPS

Date created:

2010-06-22

Download Original File:
Take a Virtual Tour
This is a stop on the virtual tour of Herbert Hoover National Historic Site.